Apple Acquires 3-D Tech: Will It Make It Into the iPhone 6?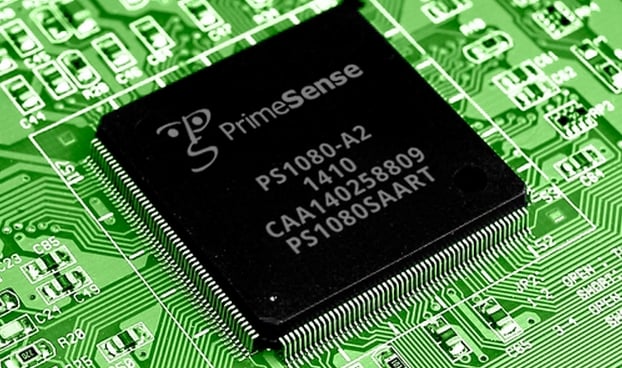 Apple Inc. (NASDAQ:AAPL) announced earlier this week that it acquired Israeli startup PrimeSense Ltd., which creates technology that allows machines to visualize objects in three dimensions. That acquisition has led to a flurry of rumors about what Apple might have in mind for the 3-D technology used in Microsoft's (NASDAQ:MSFT) Xbox Kinect motion sensor.
Reuters first reported on the acquisition, saying that neither company would disclose further plans, although both did confirm that the purchase occurred. While the companies wouldn't comment on how much Apple paid, Reuters says Israeli media has placed the sum around $350 million.
First stop on the rumor mill? Apple could be planning to add 3-D capabilities to the iPhone 6. PrimeSense's technology has most famously been used for the Kinect motion detecting system on the Xbox 360, so the first logical conclusion with the Apple acquisition is that the company could use it for Apple TV or even create its own video game console. But James McQuivey, noting the steadily shrinking size of PrimeSense's chip, took the idea a step further, suggesting in an article for AdAge that the technology could be used in the next-generation iPhone.
"I'm not talking about the gesture recognition available in some Samsung phones, but a 3D sensing tool that you could use to snap an image of people, objects or things in motion to assess their size, structure, and even something about their mass," McQuivey said of his vision of the PrimeSense technology at use in an iPhone.
"It sounds technical, but a phone with that capability could perhaps picture of your recently expired refrigerator, for example, and be able to immediately recommend new refrigerators that would fill the exact same space, not to mention match the colors in the rest of your kitchen," McQuivey continued.
Amazon.com Inc. (NASDAQ:AMZN) is rumored to be tinkering with similar technology. It's speculated that Amazon is looking to make a smartphone that can "see" in 3-D. The high-end device would include four cameras and facial recognition software that could be able to track a user's motions to create the illusion of a 3-D picture.
The software would ignore other faces around it while giving a 3-D representation of the phone's screen based on the user's point of view. Amazon is also reportedly working on an application that would allow users to take photos of an object and then be directed to an Amazon page where the object is available for purchase.
Apple stock closed up more than 2 percent at $545.96 during trading on Wednesday.
Follow Jacqueline on Twitter @Jacqui_WSCS
Investing Insights: Where Will Apple Go Next?