Apple, Amazon, and GM Suffer in International Markets: Market Recap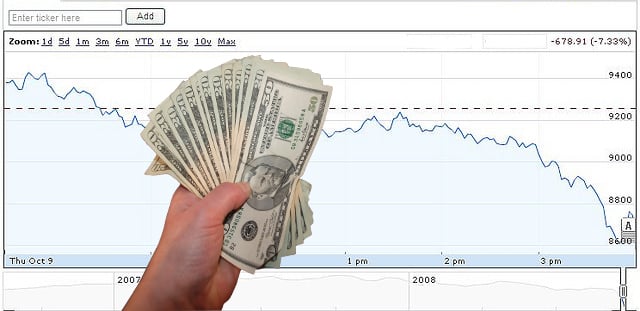 U.S. stocks rose today, as investors digested information on consumer confidence and corporate earnings. Consumer confidence rose to its highest point in six years, as Americans are feeling more confident about their financial situations and are less hesitant to spend. The Federal Reserve will meet next week to determine when it will start curbing stimulus efforts.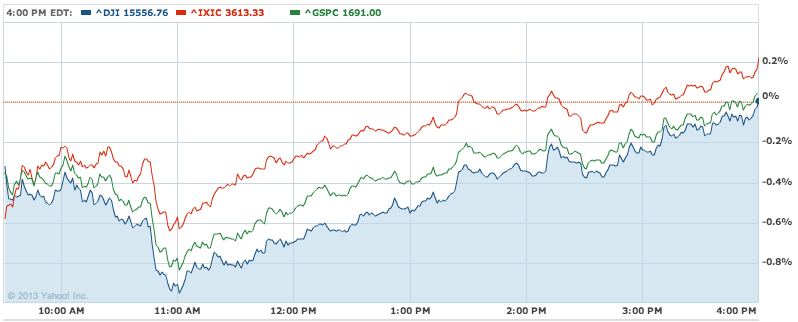 Gold: +0.37% to $1,333.70 per ounce  Oil: +0.08% to $107.00 per barrel  U.S. 10-Year: -1.76 to 2.561%
Consumer Sentiment Jumps to Best Level Since 2007: Despite sluggish economic growth and lingering high rates of unemployment, consumer sentiment in the United States reached its highest level in six years. According to the Thomson Reuters/University of Michigan's final reading, consumer sentiment in July came in at 85.1, a slight increase from 84.1 in June. It was the best reading for the index since July 2007… (Read more.)
What Does the IMF Have to Say About the U.S. Economy?: "The U.S. economic recovery remains modest but is gaining ground, supported by a rebound in the housing market, still easy financial conditions, and a boost to household net worth from higher house and stock prices," begins a report from the International Monetary Fund released Friday… (Read more.)
Another Troika: Central Banks, Governments, and Markets Complicate Global Growth: Markets, governments, and central banks are all enveloped in a convoluted dance, which has so far failed to result in the global growth that the three economic catalysts have set out to achieve. Markets hang on to the words of the world's economic czars, namely, central bankers… (Read more.)
Here's your cheat sheet to today's top stocks stories:
Apple's (NASDAQ:AAPL) third quarter results revealed that its revenue in the greater China market fell 14 percent from the same quarter last year, and declined 43 percent from the March quarter this year, Reuters reports. Some analysts are now wondering if this revenue decline indicates future trouble for Apple's fortunes in this crucial emerging market… (Read more.)
Amazon (NASDAQ:AMZN) is suffering the effects from the economic downturn in Europe, which has drastically reduced consumer spending in Amazon's international operations. The improving economy in the U.S. wasn't enough to overshadow Amazon's losses in Europe. Net sales in America grew 30 percent from $7.3 billion to $9.4 billion year-over-year, while international sales showed a much smaller growth… (Read more.)
Halliburton (NYSE:HAL) has agreed to plead guilty to destroying evidence in connection with the 2010 Deepwater Horizon disaster. Halliburton, which was sued up and down the Gulf Coast, along with BP (NYSE:BP) and Transocean (NYSE:RIG), will pay the maximum available statutory fine and be subject to three years of probation for the offense… (Read more.)
Zynga (NASDAQ:ZNGA) had an impressive start to the year, but it appears to be game over for the company's shares today. The world's leading provider of social media games announced better-than-expected financial results for the second quarter, but investors are worried about the future of the company… (Read more.)
Wal-Mart (NYSE:WMT) employs 1.4 million people in the U.S. and is the largest private employer in the nation. With such a massive workforce, its labor practices and poor relationship with unions made the company a go-to example for lawmakers in Washington when they considered the issue of minimum wage this month… (Read more.)
General Motors Co. (NYSE:GM) continues to flex its muscles in the world's two largest auto markets, China and the U.S. However, weaknesses in Southeast Asia and other international markets are dragging on the company. Following its second quarter earnings report from Thursday, concerns over the international unit could keep doubts in investors' minds… (Read more.)
Follow Jacqueline on Twitter @Jacqui_WSCS
Don't Miss: Apple to China: Only Use Genuine Chargers.