Apple Analyst Sees $760 Ahead and 4 Investor Insights Making Rounds
Apple Inc. (NASDAQ:AAPL): Current Price: $505.12
According to Goldman's belief, it is possible for Apple to report a "healthy" upside to Q1 consensus estimates, mainly on iPhone units and margins. The firm thinks that the shares are factoring in a worse case scenario and that the report may potentially begin a recovery in shares. The firm's product shipment estimates are iPhones of 48.4 million, iPads of 23.4 million, Macs of 5.1 million, and iPods of 12.3 million. Shares have a Buy rating and a $760 price target.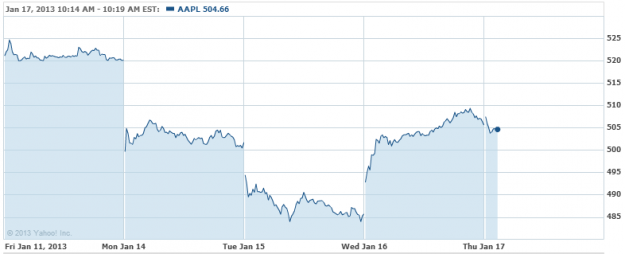 Start 2013 better than ever by saving time and making money with your Limited Time Offer for our highly-acclaimed Stock Picker Newsletter. Click here for our fresh Feature Stock Pick now!
Country Style Cooking Restaurant Chain Co., Ltd. (NYSE:CCSC): Current Price: $7.96
Cowen views Country Style Cooking as being poised to outperform the market after it pre-announced Q4 results. Also, the firm keeps  its confidence in the company's long-term outlook due to the belief that they are positioned as the best home meal replacement, best modern-day low cost producer, and best home grown China restaurant. Shares have an outperform rating.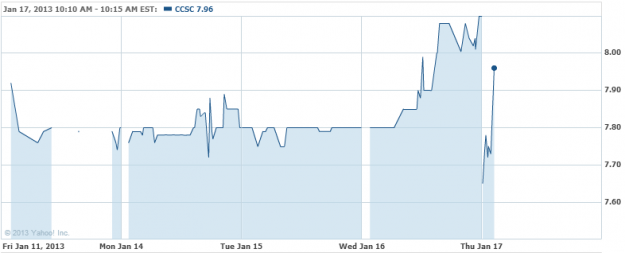 Stag Industrial Inc (NYSE:STAG): Current Price: $19.47
The company's target was raised by JMP Securities following the company's announcement of its Q4 investment activity, due to the firm's belief that it was robust. The firm predicts that the company will perform well during 2013, and it keeps its Outperform rating on the stock.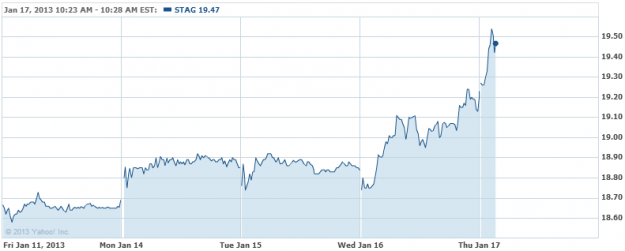 Cree Inc. (NASDAQ:CREE): Current Price: $32.56
Maxim predicts that Cree will report strong Q2 results on January 22, driving both analyst estimates and the stock higher. Maxim sees an upside to Q2 and Q3 consensus estimates for Cree when considering the company's new distributor program, which raises minimum orders and strong demand for new product launches. The firm has reiterated its Buy rating and a $38 price target on the stock. Additionally, Jefferies downgraded the shares last night to Underperform from Buy.

Facebook, Inc. (NASDAQ:FB): Current Price: $30.22
Pacific Crest continues to be convinced that Facebook's new search engine may potentially be limited as a result of a lack of data, as the company possesses a number of negative catalysts, like cannibalistic mobile revenue growth and increased hiring. The firm keeps its Sector Perform rating on the shares.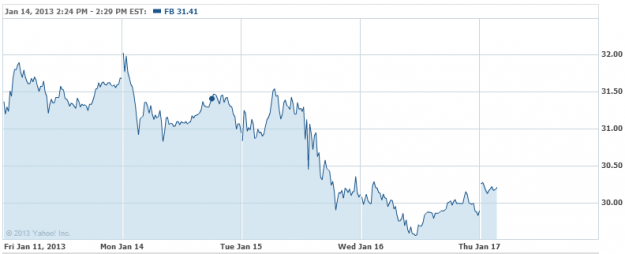 Don't Miss: This Analyst is Sticking to a $1,111 Apple Target.