Apple and Android Mobile Devices Devour PC Sales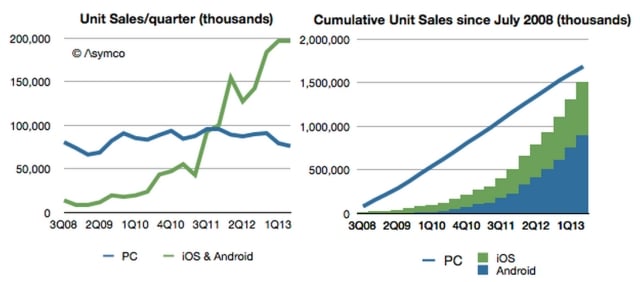 The growing consumer shift from desktop PCs to mobile devices became painfully apparent to Microsoft (NASDAQ:MSFT) investors last week when the company announced earnings that fell short of analysts' expectations. "[O]ur fourth quarter results were impacted by the decline in the PC market," noted Microsoft CFO Amy Hood.
Sales of tablets, smartphones, and ultramobiles have grown over the past several years as PC sales have simultaneously plummeted. Global PC shipments declined by almost 11 percent in the second quarter of 2013 according to statistics released by market research firm Gartner. Meanwhile, Microsoft's struggling Surface RT tablet incurred the company a $900 million writedown.
Respected Apple (NASDAQ:AAPL) analyst Horace Dediu at Asymco has created a chart that outlines the stark differences between sales of iOS and Android mobile devices compared to PCs. He notes that, "Even excluding Android devices which don't register with Google's (NASDAQ:GOOG) Play Store (and excluding Windows Phone devices), mobile ARM devices are selling at 2.6 times the rate of Intel (NASDAQ:INTC)-powered devices. Put another way, since the birth of Android nearly as many iOS and Android devices have been sold as PCs."
Gartner research vice president Carolina Milanesi observed via MacDailyNews that, "Consumers want anytime-anywhere computing that allows them to consume and create content with ease, but also share and access that content from a different portfolio of products. Mobility is paramount in both mature and emerging markets."
Although Microsoft's Windows operating system dominates the PC market and Google's Android dominates the mobile phone market, Gartner's Milanesi noted that Apple may actually have the best overall market position. "Apple is currently the more homogeneous presence across all device segments, while 90 percent of Android sales are currently in the mobile phone market and 85 percent of Microsoft sales are in the PC market," said Milanesi.
Here's how Apple closed out the week on Friday.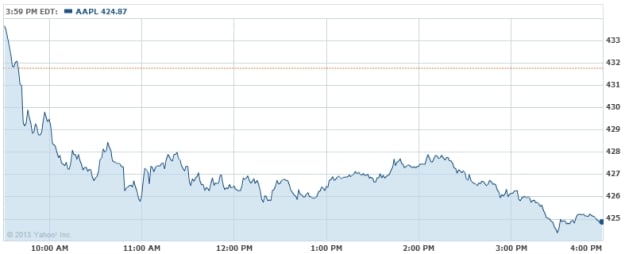 Follow Nathanael on Twitter (@ArnoldEtan_WSCS)
Don't Miss: Government Security Experts Put Apple's Activation Lock to the Test.