Apple and Google Buses Targeted in California Housing Protests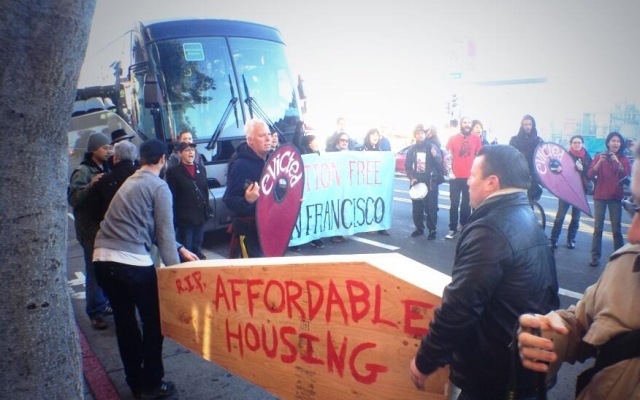 A bus taking Apple (NASDAQ:AAPL) employees to the tech company's Cupertino campus was briefly stopped by anti-eviction protestors in San Francisco on Friday. The demonstrators were protesting the private buses' use of public transit stops, as well as rising home prices and the displacement of lower-income residents due to the influx of relatively wealthy employees from various tech companies, reports MissionLocal.org. The image of the protest seen above was taken by San Francisco-based journalist Joe Fitz Rodriguez.
Apple wasn't the only tech company targeted by protestors in California on Friday. Two buses transporting Google (NASDAQ:GOOG) employees in Oakland were also stopped. According to KQED News, at least one of the Google buses had a broken window and a flat tire. "We want to make it clear that we're not just targeting Google, we're targeting the systematic use of these shuttles and their impact on this city," protest leader Fred Sherburn-Zimmer told MissionLocal.org. "This protest is about gentrification and people being displaced," said organizer Erin McElroy. "We're not necessarily against tech. We're against tech's effect on speculation and evictions."
According to MissionLocal.org, protestors are seeking a halt to no-fault evictions and the protection of rent-controlled housing from real estate speculation. At least one Apple employee that MissionLocal.org spoke with seemed to sympathize with the protestors' aims. "Ultimately, the theme of this is correct. But sometimes the enormity of the companies we work for make us as anonymous as the people being displaced," said the unnamed Apple employee. "Do I think there should be some regulation on these buses? Absolutely. Should longtime residents that don't make tech salaries have help staying in their homes? Yes, definitely."
As recently noted by WIRED, many new tech companies are starting to establish headquarters in San Francisco. However, companies like Apple and Google that have suburban headquarters provide their San Francisco-based employees with transportation.
As noted by the San Francisco Chronicle's Kurtis Alexander, the private buses make 4,000 stops each week day at San Francisco's public transit stops. Currently the companies do not pay for the use of the public busing infrastructure. However, the city is working out a system to charge the busing companies a fee.
Follow Nathanael on Twitter (@ArnoldEtan_WSCS)
More from Wall St. Cheat Sheet: