Apple and Time Warner Will Put a TV In The Palm Of Your Hand
With a mobile smart device in the hands of about 50 percent of Americans, cable operators have been forced the rethink the fundamentals of the television business. The industry evolved assuming one basic tenant: when people watch TV, they are at home. But with every Internet-connected device sold, this becomes less and less true.
Already, would-be at-home television watchers can use Netflix (NASDAQ:NFLX) remotely, or use any number of services to access specific on-demand content. Companies like Aereo, run by billionaire Barry Diller, even hijack local broadcast content and allow customers to watch it on their mobile devices — much to the chagrin of companies like News Corp. (NASDAQ:NWS)(NASDAQ:NWSA), which has sued the startup.
However, what has been missing is an honest-to-goodness live TV experience on a mobile device. To date, it has been exceedingly difficult for people to duplicate the at-home viewing experience while out and about. Fortunately, America's top cable companies have been quick to identify this desire…
Time Warner Cable (NYSE:TWC), the second-largest cable operation in the U.S., is one of the companies leading the TV-everywhere charge. Beginning on Wednesday, it will make up to 11 live national news, sports, and entertainment channels available outside the home on Apple (NASDAQ:AAPL) mobile devices. Customers will be able to watch live television on their iPad, iPhone, and even iPod touch through Time Warner's TWC TV app.
Customers will also be able to watch some on-demand content from networks owned by Viacom (NYSE:VIAB). After a brief legal spat over mobile-device broadcasting rights, Viacom and Time Warner have settled their differences and now have a legal framework in place to rebroadcast certain programs from networks like Comedy Central, MTV, and Nickelodeon.
Here's how Apple (NASDAQ:AAPL) traded Tuesday: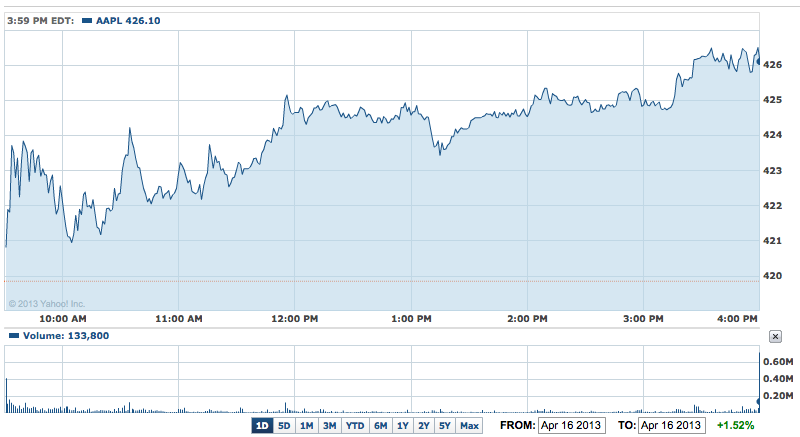 Don't Miss: Did Apple's Controversial Warranty Policies Inadvertently Help Scammers?