Apple and Yahoo: BFFs in iOS 7
Does the new iOS 7 make Apple (NASDAQ:AAPL) and Yahoo (NASDAQ:YHOO) "best friends forever?" Although Yahoo has been an integral part of Apple's mobile operating system since the iPhone's debut in 2007, it seems that the latest version of iOS has even further cemented the two tech companies' bonds.
The new built-in Weather app for iOS 7 is a good example of the deepening bonds between these two companies. Although Apple already used Yahoo's weather forecast updates for iOS 6, it was visually apparent that iOS 7's new native Weather application was essentially a retooled version of Yahoo's own weather app for iOS.
Apple Insider notes that Yahoo's recently updated weather app for Apple's iOS includes many of the same design elements that are found in Apple's new built-in Weather app. This would seem to indicate that Yahoo was not only supplying weather updates for Apple's Weather app, but it was also helping to design its appearance and functionalities.
Perhaps it was no coincidence that Yahoo's Weather application was the recipient of an Apple Design Award at this year's Worldwide Developers Conference. Apple noted the app's "simple, uncluttered, and beautiful visual design" – adjectives that have often been used to describe Apple's own design ethos.
However, perhaps in order to distinguish it from Apple's new built-in Weather app, Yahoo's own weather app now includes a few extra features, such as photos of current weather conditions and an animated windmill that indicates wind speed. Not surprisingly, Yahoo's Weather app photos are derived from its photo-sharing service, Flickr.
In another sign of the increasing cooperation between the two companies, Apple has also integrated support for Yahoo's Flickr in iOS 7. Will Apple and Yahoo continue their love-fest in future products and services? Only time will tell. However, Yahoo should keep in mind that Apple previously had a close relationship with Google (NASDAQ:GOOG) before having a falling out over Google's rival Android operating system.
Here's how Apple and Yahoo closed out on Friday.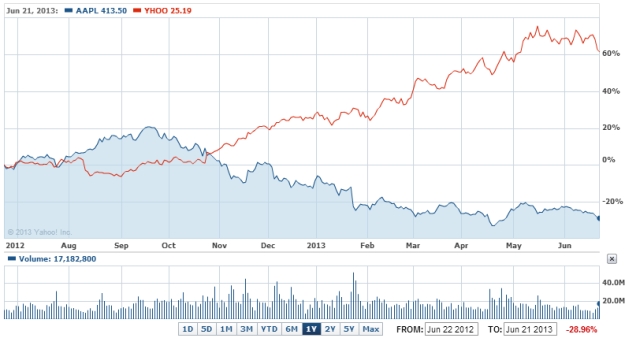 Follow Nathanael on Twitter (@ArnoldEtan_WSCS)
't Miss: Could This Be the First Million Dollar Apple Computer?