Apple Announces Developers Conference and 2 Other Hot Stocks to Watch
Apple (NASDAQ:AAPL): Current price $400
On Wednesday, Apple announced that it will conduct its annual Worldwide Developers Conference June 10 through June 14 at Moscone West in San Francisco. Attendees at the conference, developers from all over the world will learn about the future of iOS and OS X, empowering them to create new applications with innovative features. In addition, the Conference will feature over 100 technical sessions presented by more than 1,000 Apple engineers, hands-on labs to help developers integrate new technologies, along with the popular Apple Design Awards. Tickets for the 2013 WWDC go on sale April 25th at 10 a.m. Pacific time.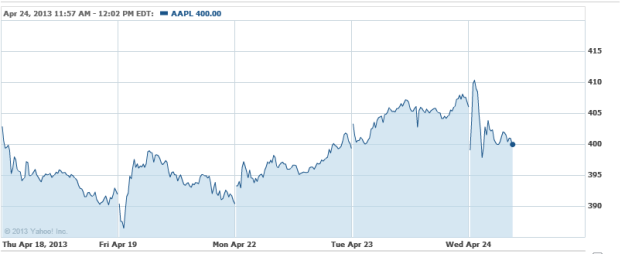 Juniper Networks (NYSE:JNPR): Current price $15.90
TheStreet Wire reports that juniper shares are trading at unusually high volume Wednesday, with 13.7 million shares being exchanged. It stands currently at 2.1 times its average daily volume and is trading down $1.60 at $15.76 as of 10:25 a.m. Eastern Time, marking a 9.2 percent fall. The firm has a market cap of $8.75 billion and is a part of the tech sector and computer hardware industry. At the close Tuesday, shares were down 11.7 percent thus far in 2013.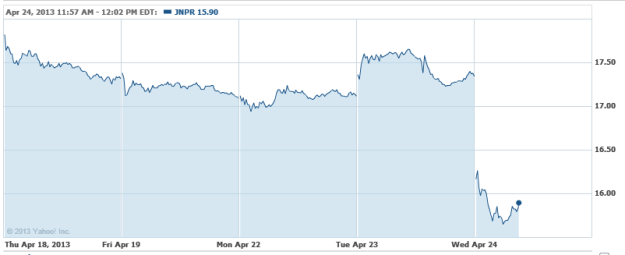 EMC Corporation (NYSE:EMC): Current price $22.59
EMC just posted its quarterly earnings Wednesday morning, which are lighter than the Street anticipated, reports AllThings D. Sales were up by 6 percent to $5.39 billion, which was roughly $30 million below the consensus of $5.42 billion. Earnings per share came to 39 cents, one cent under the expected 40 cents.  However, EMC says that it will still meet its guidance for the fiscal year, and still expects to earn $1.85 a share on sales of $23.5 billion. Meanwhile, it will repurchase $1 billion worth of stock in 2013.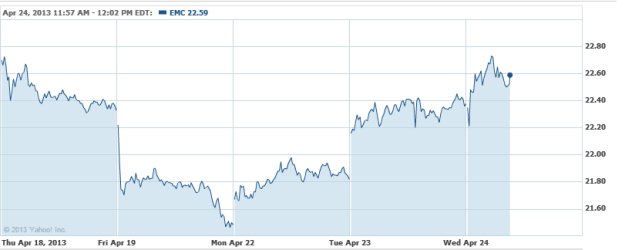 Don't Miss: Apple's Massive Cash Hoard Hits New Record.