Apple Announces Royalty Terms to Labels and 2 Other Hot Stocks to Watch
Apple (NASDAQ:AAPL): Current price $396.39
Prior to its intro of an online radio service, Apple made public its terms to independent record labels, and a number of them have been found more generous to the music companies than are what Pandora Media is presently paying. Apple says that it will pay royalties to labels calculated on a mix of the number of times that listeners hear their songs, and the amount of advertising Apple sells, according to terms that were reviewed by The Wall Street Journal. For iTunes Radio's first year, Apple will pay a label 0.13 cents for every time a song is played, along with 15 percent of net advertising revenue, prorated to a given label's share of the music played on iTunes. For the second year, the amounts edge up to 0.14 cents per listen, plus 19 percent of ad revenue.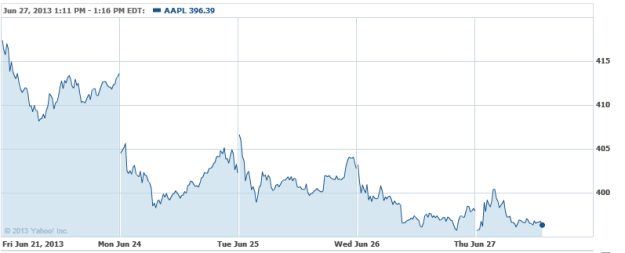 Peregrine Pharmaceuticals (NASDAQ: PPHM): Current price $1.24
Peregrine on Thursday supplied an update on its bavituximab oncology program, which includes financing activities concentrated upon moving its lead program into a pivotal Phase III trial, and also adapting its clinical development plan in accordance with the recent increased understanding of the immune-stimulatory properties of bavituximab. In May, the firm made an agreement with the FDA on a Phase III trial design in second-line non-small cell lung cancer with bavituximab and docetaxel, presented data from its trial backing this study in early June, and is presently in the process of initiating the pivotal Phase III trial by the end of 2013.

Citigroup (NYSE:C): Current price $48.46
On Thursday, Citi reported that Gordon Kroft will come to the company in September in the newly-created position of head of its telecommunications practice in the Americas. Gordon will manage coverage for a number of important  sectors, among which include data center and tower infrastructure companies, wireline and wireless service providers, and directories and satellite  service providers in the Americas. In driving this endeavor, Gordon will work closely with Citi's Canadian and Latin American groups, and also with Citi's Global Head of Telecommunications Eric Medow.