Apple Applies for Authentication Patent and 3 Tech Titans on the Move
Apple Inc. (NASDAQ:AAPL):  Current price $459.32
Apple Inc. has applied for a patent on the use of images to authenticate a Mac or iDevice user. The patent application, dubbed "Image-Based Authentication," describes a method by which an image of some sort will be displayed on a Mac or iDevice screen. Aside from that image, options will be displayed asking users to correctly identify what it is. If they answer correctly, they'll be able to access the respective device. An incorrect answer keeps it locked.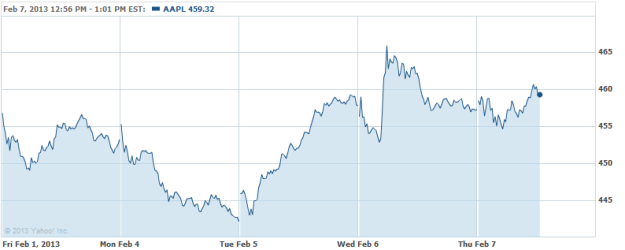 Google Inc. (NASDAQ:GOOG):  Current price $769.36
Within a year or so, Google Inc. is expected to receive more search queries from mobile devices than it does from desktop computers. The problem is that mobile ads haven't performed as well as desktop ads. If Google's mobile search advertising revenue cannot match its desktop search revenue, investors may lose faith in the company's future prospects.
Are these stocks a buy or sell? Let us help you decide. Check out our Stock Picker Newsletter now.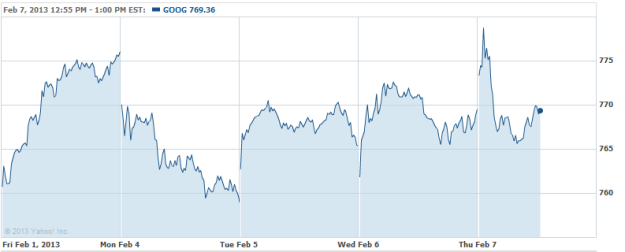 Microsoft Corporation (NASDAQ:MSFT):  Current price $27.19
Even before the launch of Microsoft Corporation's Surface Windows 8 Pro, it was known that battery life would be their problem area. Now, Microsoft is hinting that they may have a fix in the works. Panos Panay, Microsoft's corporate Vice President working on Surface, recently hosted a question and answer session on Reddit about the new product. One user asked if Microsoft had any plans for an external battery or a keyboard cover with its own built in battery. "That would require extending the design of the accessory spine to include some way to transfer higher current between the peripheral and the main battery," Panay wrote in response.

Intel Corporation (NASDAQ:INTC):  Current price $20.82
A bug discovered in Intel's 82574L Ethernet controller leaves equipment vulnerable to attack via a so-called packet of death. Star2Star's Chief Technology Officer, Kristian Kielhofner, identified the root of the bug after customers began reporting that their Star2Star-branded hardware was experiencing random crashes. This put the company on its trail which eventually lead to Intel's Ethernet controller.

Don't Miss: Can Apple Make Its Investors Happy?