Apple Audio Takes a Leap Forward
Are Apple's (NASDAQ:AAPL) iOS devices about to get an amazing new audio technology? A recently revealed Apple patent shows that the Cupertino-based company has registered a new method for delivering high-quality sound on its portable devices.
The patent, titled "Orientation-based Audio," outlines a method for ensuring that a user always gets the best possible sound from his or her device. As described in the patent abstract, "A method and apparatus for outputting audio based on an orientation of an electronic device, or video shown by the electronic device. The audio may be mapped to a set of speakers using either or both of the devices, and video orientation to determine which speakers receive certain audio channels."
In the patent, Apple notes that users are able to reorient video based on their personal preferences by merely changing the angle of the device. However, although many portable devices will automatically adjust video orientation, most devices "continue to output audio as if the device is in a default orientation."
Apple's solution is to have the audio output adjust to the user's preference similar to the way that video output adjusts. However, whereas video essentially has two different orientations on a screen, audio delivery can get a little more complex. One embodiment of Apple's patent merely reverses the right and left speaker channels if the video image is flipped. This patent also covers a similar method with three speaker channels.
Another embodiment covers speaker channel adjustments based on information from an "audio processing router." Using internal sensors, the device determines how it is oriented, and optimizes the sound output based on that information. This method can also involve more than two speakers.
Perhaps one of the most interesting embodiments is the one in which the device detects how far away or close a user is and adjusts the sound accordingly. The sound can also be adjusted to compensate for various user orientations. For example, if a user is not directly in front of an iPad, the sound could be delayed out of one channel in order to keep the audio synced for the user's perspective.
Although this patent seems to cover technology that would best be suited to portable devices, this audio technology could also be used in desktop computers or any other type of product with speakers. Here's how Apple has traded so far this week.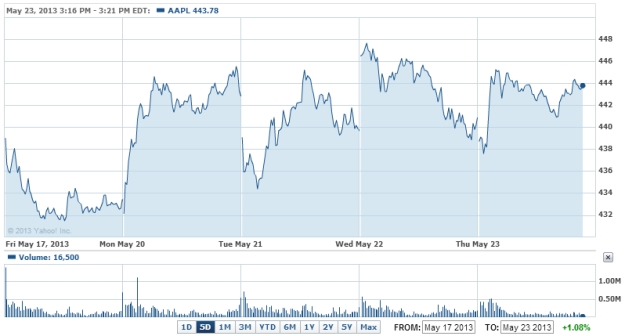 Follow Nathanael on Twitter (@ArnoldEtan_WSCS)
Don't Miss: Are Apple Displays About to Get Even Better?