Apple Beats Estimates, Merck Misses: Market Recap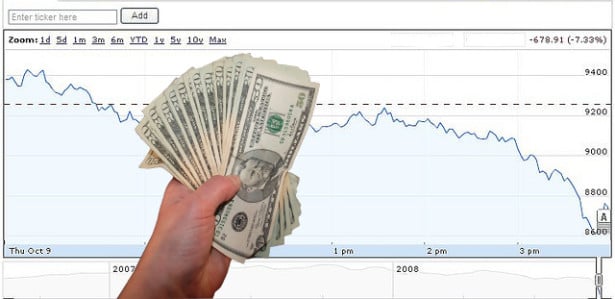 U.S. stocks rose during trading on Monday as investors are confident that the Federal Reserve won't begin curbing stimulus anytime soon. The Federal Reserve will meet tomorrow and Wednesday, but economic uncertainty caused by the government shutdown will likely prevent the central bank from paring bank bond purchases. The S&P 500 closed at a record high and could see its best annual gain since 2003.

Gold: +0.02% to $1,352.80 per ounce Oil: +0.74% to $98.57 per barrel U.S. 10-Year: +0.36 to 2.51%
The Shutdown Takes Its Toll on U.S. Manufacturing: Industrial production in the United States sputtered into a slightly higher gear in September. The U.S. Federal Reserve reported on Monday that its index for industrial production (the IPI, which measures output from the manufacturing, mining, electric, and gas industries) increased from 99.5 in August to 100 in September, bringing the index in line with its 2007 average for the first time since the financial crisis.
Upcoming Apple and Facebook Earnings Reports Eclipse Fed Meeting: Although the Federal Reserve's October meeting is right around the corner, it doesn't appear to be attracting the usual high levels of attention from investors, reports Reuters. That's because many investors are focusing their attention instead on upcoming earnings reports from several tech powerhouses.

Show Me the Money! Sen. Warner Wants Shutdown Cost Data: Sen. Mark Warner (D-Va.) wants a price tag fixed to the partial government shutdown. In a Thursday letter sent to the Government Accountability Office, he asked for a study to understand the full impacts of the shutdown. Warner chairs the Senate Budget Committee's Government Performance Task Force and has served in the Senate since 2008. If the GAO complies with his request, it will be the latest data in a string of estimates.
Here's your cheat sheet to today's top stocks stories:
Apple (NASDAQ:AAPL) said earnings slipped 8.5 percent in the fourth fiscal quarter, but beat Wall Street expectations slightly. For the period ended September 28, net income was $7.5 billion, or $8.26 per share, compared to net income of $8.2 billion, or $8.67 per share, for the same period last year. Revenue grew 4 percent to $37.5 billion. Apple said it shipped 33.8 million iPhone units, more than the average 32 million expected. Apple shares were dipping in the minutes after the earnings report came out.

Burger King Worldwide (NYSE: BKW) released its third quarter results early Monday morning. It wasn't a whopper, but Burger King wasn't walloped either. Diluted earnings per share increased 31.6 percent, or by 23 cents per share. Adjusted Earnings Before Interest, Taxes, Depreciation, and Amortization (or, EBITDA) had a 16.7 percent increase to $176.0 million. Burger King posted the good numbers even though comparable system-wide sales growth was 0.9 percent for the quarter, compared to 1.4 percent for the third-quarter last year.

Boeing (NYSE:BA) was in for a big haul after Emirates was said to be in advanced negotiations to buy as many as 100 long-haul aircraft from the aircraft maker. The deal could be worth up to $30 billion, but no formal agreements have been signed as of yet. As Emirates president, Tim Clark, told Financial Times, the company is "a relatively advanced state of commercial negotiations. I think whatever happens there will be substantive order for the new 777." Emirates could even be the launch customer for the upgraded version of the airplane manufacturer's popular 777 jet.
Merck & Co. (NYSE:MRK) woke up on the wrong side of the bed on Monday. Shares fell over 2 percent during trading on Monday after Merck reported third-quarter financial results that fell short of expectations. Merck's total sales fell nearly 5 percent to about $11 billion, missing the mean analyst estimate of $11.12 billion (a 3.2 percent contraction on the year). Merck reports that unfavorable foreign exchange accounted for a 2 percent decline in worldwide sales — the rest of the damage can pretty much be explained away as the expiration of patents on flagship drugs.
J.C. Penney (NYSE:JCP) shares surprisingly rose on Monday after CEO Mike Ullman spoke at the Women's Wear Daily conference, saying that sales are improving and reaffirming J.C. Penney's forecasts that same store sales will actually improve for the struggling retailer this quarter. "I told lenders it would be one thing if we had two things wrong and they couldn't be fixed. We have 30 things wrong and they can all be fixed," Ullman said on Monday, Fox reports. J.C. Penney shares closed up 8.76 percent.
BlackBerry (NASDAQ:BBRY) has lost a potential bidder. German business software manufacturer SAP (NYSE:SAP) has decided that purchasing BlackBerry "doesn't fit" with its strategy, CFO Werner Brandt told a German magazine, Reuters reports. The news comes as a $4.7 billion buyout offer from Fairfax Financial Holdings is looking less certain as the days pass.
Follow Jacqueline on Twitter @Jacqui_WSCS
Don't Miss: Will Apple's Next-Generation iPhones Get This High-Resolution Display?