Apple Beats Expectations, Lockheed Martin Impresses: Market Recap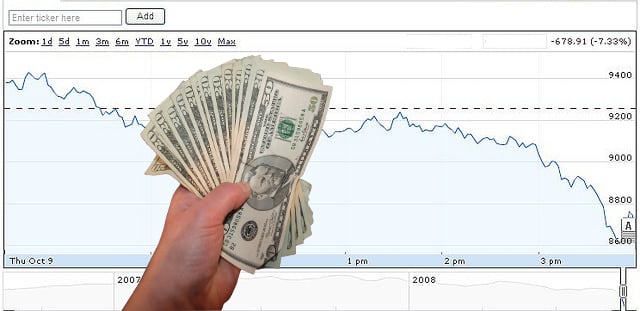 U.S. stocks had a tight session on Tuesday, with the Dow and the S&P 500 remaining near record highs. The S&P 500 wasn't quite able to maintain its fourth-straight day of gains, as that and the Nasdaq were poorly affected by tech and biotech shares. Positive earnings results from United Technologies (NYSE:UTX) helped boost the Dow.

Gold: +0.47% to $1.342.30 per ounce  Oil: +0.08% to $107.00 per barrel  U.S. 10-Year: +1.13 to 2.516%
What Does the Fed's Taper Timeline Look Like?: In September, the Federal Open Market Committee kicked off the third round of quantitative easing by announcing that it would purchase $40 billion worth of agency mortgage-backed securities each month. In December, with unemployment at 7.8 percent and about to edge up, the FOMC announced the fourth round… (Read more.)
Excessive Heat Pushed Customers Into Open Arms of Retailers: "Excessive heat in parts of the country and summer clearance sales helped to heat up a positive performance for retailers overall," noted the International Council of Shopping Centers' vice president of research and chief economist, Michael Niemira, in the firm's weekly reading of the health of the United States retail sector… (Read more.)
Chinese President: Reforms Must Be Deepened: Chinese officials have been in the media frequently in recent times, touting their ability to reform and their need to change the dynamics of the economy there. The message out of Beijing is that China will accept slower growth rates, and continue to change the economy in ways that support domestic consumption and create a more prosperous society by 2020… (Read more.)
Here's your cheat sheet to today's top stocks stories:
Apple (NASDAQ:AAPL) reported fiscal third-quarter earnings today after the bell, and the results came in ahead of analyst expectations. Revenue increased 0.8 percent on the year to $35.3 billion, beating the average analyst estimate of $35.01 billion. Earnings fell 19.8 percent on the year to $7.47 per share, beating the average analyst estimate of $7.32 per share… (Read more.)
Boeing (NYSE:BA) is under scrutiny again after a 737 craft crash-landed into New York's LaGuardia airport on Monday evening. The landing gear of Southwest (NYSE:LUV) Flight 345 collapsed, sending the aircraft skidding along the 7,500-foot runway on its nose before it veered off into a grassy area… (Read more.)
GlaxoSmithKline (NYSE:GSK) has admitted to, and apologized for, bribery charges against the company's Chinese sales operations, but a new report from the New York Times suggests the corruption could have reached Glaxo's research operations in Shanghai as well… (Read more.)
Lockheed Martin Corp. (NYSE:LMT) stock advanced as much as 2.7 percent in early trading on Tuesday after reporting strong second-quarter results. Net sales decreased 4 percent on the year to $11.4 billion but still beat the mean analyst estimate of $11.13 billion. Earnings increased 11 percent to $2.64 per share, beating the mean analyst estimate of $2.20 per share… (Read more.)
AT&T (NYSE:T) reported earnings today, falling slightly short of analyst estimates. The company reported earnings per share of 67 cents, an increase of 1.52 percent from 66 cents year-over-year, but coming short of analyst expectations of 68 cents. The company's revenue rose 1.58 percent to $32.08 billion, beating the average estimate of $31.81 billion.
DuPont (NYSE:DD) reported earnings today, beating analyst estimates for earnings per share, but falling short of revenue estimates. The company's earnings per share fell 8.57 percent to $1.28, down from $1.40 a year earlier. Analysts had expected DuPont's EPS to be $1.27. DuPont's revenue fell 12.75 percent to $9.84 billion, missing analyst expectations of $10.01 billion.
Don't Miss: Is the Smartphone Market Really Slowing Down?
Follow Jacqueline on Twitter @Jacqui_WSCS