Apple Beats Samsung on Home Turf

Apple (NASDAQ:AAPL) smartphone rival Samsung (SSNLF.PK) has failed in its attempt to block the sale of some older models of iPads and iPhones in South Korea, reports Reuters. The Korea-based tech giant had accused the iPhone maker of infringing on three of its patents that cover certain mobile messaging features. Samsung was seeking about $95,000 in damages as well as a sales ban on products like the iPhone 4S, iPhone 5, and iPad 2. However, Korea's Seoul Central District Court rejected Samsung's claims and ruled that Apple's devices did not infringe on Samsung's patents.
"We are glad the Korean court joined others around the world in standing up for real innovation and rejecting Samsung's ridiculous claims," said Apple Korea spokesperson Steve Park via Reuters. The ruling is a setback for Samsung, which has previously won other patent-infringement cases in the Seoul Central District Court. As noted by Reuters, the same court found last year that Apple had infringed on two of Samsung's mobile patents and ordered the California-based company to pay about $38,000 in damages.
"We are disappointed by the court's decision," said Samsung in a statement via Reuters. "As Apple has continued to infringe our patented mobile technologies, we will continue to take the measures necessary to protect our intellectual property rights."
The two smartphone rivals have been engaged in various legal battles in courtrooms around the world ever since Apple filed a patent-infringement lawsuit against Samsung in the spring of 2011. Apple recently won another major victory against Samsung in the U.S. when a California jury ruled that Samsung must pay the iPhone maker more than $290 million in damages over 13 products that were found to be infringing on five of Apple's patents. Along with the damages award from last year's trial, Samsung now owes Apple approximately $930 million.
Samsung has also struck out at the U.S. International Trade Commission. After the Obama administration vetoed an ITC import ban on certain older models of Apple's iPhones and iPads earlier this year, the administration declined to veto a similar ITC import ban on some older Samsung products.
Here's how Apple has traded over the past five sessions.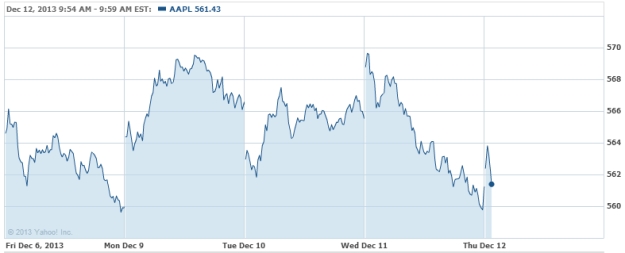 Follow Nathanael on Twitter (@ArnoldEtan_WSCS)
Don't Miss: Analyst: China Mobile Will Get More Out of iPhone Deal Than Apple.