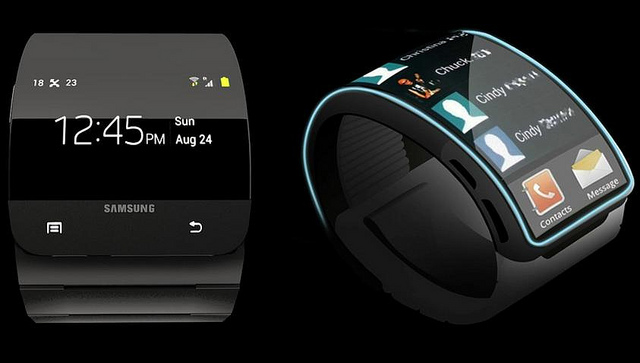 Is Samsung's (SSNLF.PK) recently unveiled Galaxy Gear smartwatch a sign that the Korea-based company is outpacing Apple (NASDAQ:AAPL)? A CNET report offers a fascinating behind-the-scenes glimpse of how quickly Samsung was able to bring its Galaxy Gear product to market.
Although rumors have been swirling about a so-called "iWatch" ever since a Chinese supply chain source suggested that Apple was interested in a smartwatch last year, the Cupertino, California-based company has yet to officially announce any wearable tech product. However, soon after the rumors of Apple's iWatch development emerged, Samsung announced its own wearable device.
There is no doubt that Samsung has an impressive ability to quickly bring its products to market. According to CNET, Samsung completed the Galaxy Gear product less than a year after the initial decision was made to create it. In fact, the company was even able to create a lime green Galaxy Gear version in just a few days, after a last-minute request from a Samsung executive.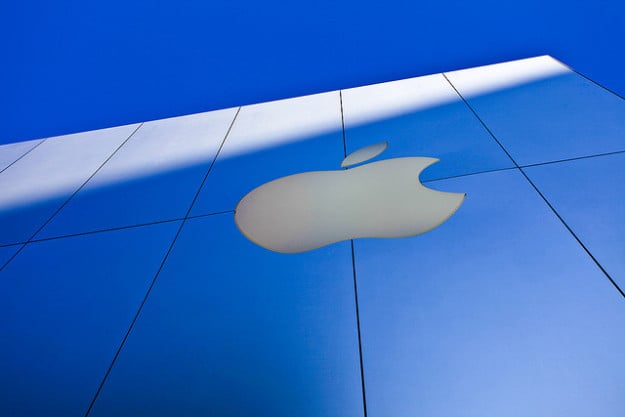 However, does Samsung's ability to quickly bring its smartwatch product to market give the company an advantage over Apple? Although the popularity of Samsung's Galaxy Gear won't be known until it is publicly released, early reviews of the device from various tech commentators suggest that Samsung might have mistakenly prioritized winning the smartwatch race over creating a fully developed wearable tech product.
As noted by CNET, many reviewers have already criticized the low battery life and limited capabilities of the Galaxy Gear, especially considering its $300 price. The initial iteration of Samsung's Galaxy Gear will only be compatible with the 2014 edition of the Galaxy Note 10.1 and the Galaxy Note 3.
Meanwhile, Apple is rumored to have assembled a group of experts to begin development on its iWatch. According to insider sources cited by Mark Gurman at 9to5Mac, this group includes medical sensor specialists, fitness experts, and hardware and software engineers.
Not surprisingly, Apple's hardware team includes battery efficiency specialists who will focus on creating light and efficient batteries for the company's wearable tech product. Since Apple's products already emphasize seamless user experience across devices, it can be assumed that any future wearable tech product will also be compatible with Apple's other products.
While it may disheartening for Apple users to see competitors' smartwatches hit the market before the long-rumored iWatch, Samsung's Galaxy Gear may end up proving that sooner is not always better. Samsung's Galaxy Gear becomes available to U.S. consumers on Friday.
Here's how Apple traded over the past five sessions.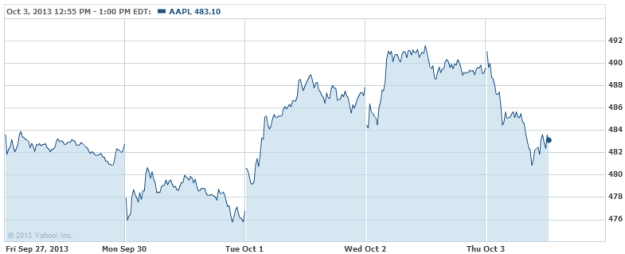 Follow Nathanael on Twitter @ArnoldEtan_WSCS
Don't Miss: Qualcomm: Apple Chip Is a 'Marketing Gimmick'.