Apple Bigwigs Take Home Sizeable Stock Bonuses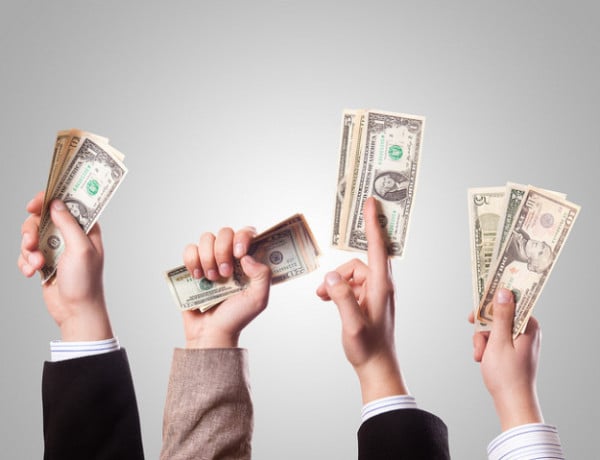 Several members of Apple's (NASDAQ:AAPL) executive team brought home a little more bacon this week in the form of restricted stock units. According to filings made with the Securities and Exchange Commission, six Apple executives were each awarded 35,780 restricted stock units, or RSUs, on March 3. Per the SEC filings, the executives who received the RSUs were Senior Vice President of Internet Software and Services Eddy Cue, Senior Vice President of Software Engineering Craig Federighi, Senior Vice President of Hardware Engineering Dan Riccio, Senior Vice President of Worldwide Marketing Philip Schiller, general counsel and Senior Vice President of Legal and Government Affairs Bruce Sewell, and Senior Vice President of Operations Jeff Williams.
Based on Apple's current share price, each batch of the nearly 36,000 RSUs would be worth about $19 million today. However, various portions of the stock units will vest at different times over the next several years, and some of the units are dependent on the overall performance of the company's stock. Each executive received a batch of 22,738 RSUs that are scheduled to vest regardless of the company's performance. One-third of the 22,738 RSUs will automatically vest on April 1, 2016; April 1, 2017; and April 1, 2018.
A second portion of 6,626 RSUs may vest on October 1, 2015. However, the vesting of these RSUs is dependent on Apple's "relative total shareholder return from September 29, 2013 through September 26, 2015." As stated by Apple, "Between 0% and 200% of the target number of units may vest on October 1, 2015, with the vesting percentage determined based on actual performance."
Similarly, a third batch of 6,416 RSUs may vest on October 1, 2016. The vesting percentage for this portion will be determined by "relative total shareholder return from September 29, 2013 through September 24, 2016." Each executive received the same amount of RSUs with identical stipulations.
As noted by Apple's Compensation Committee in the company's recent proxy statement that it filed with the SEC on January 10, the iPhone maker has recently taken steps to "enhance the link between executive officers' and shareholders' interests." In June, the Compensation Committee approved a modification to Tim Cook's RSU award so that the chief executive has an even greater stake in the success of the company.
As noted in the proxy statement, Cook personally requested that the new changes apply retroactively to his 2011 CEO equity award as well as any potential future awards. "Under the adopted modification, Mr. Cook will forfeit a portion of the 2011 RSU award, which was previously entirely time-based, if the Company does not achieve certain performance criteria," according to Apple's Compensation Committee.
The committee praised Cook's "leadership by example" and noted that it was "in the process of designing future awards for executive officers, and it is committed to including performance criteria in a portion of the equity awards it grants to executive officers in the future." The recent RSU bonuses appear to reflect Apple's increased emphasis on performance criteria.
More From Wall St. Cheat Sheet:
Follow Nathanael on Twitter @ArnoldEtan_WSCS