Apple Bonds Disappoint, Dish Gives Up on Sprint: Market Recap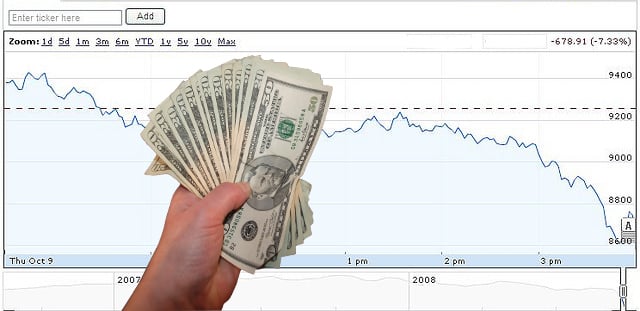 After Wednesday's volatile trading session, in which investors were waiting on news from the Federal Reserve's two-day meeting on stimulus, U.S. stocks fell. The Fed has deemed that the economy is growing at a moderate pace and so it won't stop stimulus, for now anyway. Bond yields surged to 2.333 percent after the announcement.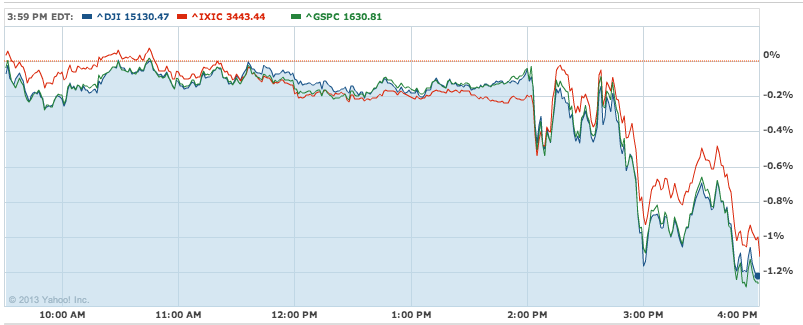 Gold: -1.20% to $1,350.30 per ounce  Oil: -0.45% to $98.00 per barrel  U.S. 10-Year: +5.91 to 2.31%
The FOMC: We Can't Taper QE Yet, Economy Slower Than Expected in 2013: After several weeks of chatter and speculation, the long-awaited statement from the Federal Open Market Committee is here. The arm of the U.S. Federal Reserve responsible for open market operations — i.e. quantitative easing — concluded its two-day meeting on Wednesday. Most people were not expecting a major change in the central bank's monetary easing programs, and that's exactly what the Federal Reserve delivered… (Read more.)
Are Rising Interest Rates Scaring the Housing Market?: The housing recovery theme is still in progress, but rising interest rates continue to scare consumers from mortgage applications and refinancing. According to the Mortgage Bankers Association's latest report for the week ending June 14, loan application volume decreased 3.3 percent on a seasonally adjusted basis from one week earlier. That is the fifth weekly decline in six weeks and comes after a 5 percent gain in the previous week… (Read more.)
Is a Free-Trade Agreement With Europe Finally Within Reach?: In many ways, a free-trade agreement between the European Union and the United States is the Holy Grail for the G8. Comprehensive — or at least competent — trade regulations have been sought by market participants and political leaders for more than two decades, but reform has consistently been crushed by seemingly irreconcilable differences in how the EU and U.S. think about genetically-modified foods and intellectual property… (Read more.)
Here's your cheat sheet to today's stock stories:
DreamWorks Animation (NASDAQ:DWA) Chief Executive Jeff Katzenberg said that his company's new forays into television production will yield $100 million in revenue this year, with that number swelling to over $200 million in 2015. Amid news that DreamWorks will partner with Netflix (NASDAQ:NFLX) and Germany's Super RTL channel, Katzenberg detailed the integral role television will play in the future… (Read more.)
FedEx Corp. (NYSE:FDX) has raised its profit expectations for 2014 by 13 percent as the company cuts 3,600 jobs and trims the cost of its international shipping services. FedEx owns the world's largest cargo airline, and it has been able to make profits even in a weak economy due to the variety and volume of goods it ships worldwide. Despite being more immune to the economic climate than other companies, FedEx saw its fourth quarter profits drop by 45 percent compared with last year, down to 95 cents per share… (Read more.)
Dish Network (NASDAQ:DISH) has apparently given up on purchasing Sprint Nextel (NYSE:S), meaning SoftBank has overcome its biggest obstacle in acquiring America's number three wireless provider. Dish had until Tuesday to make Sprint its best and final offer after SoftBank sweetened its deal from $20.1 billion, which many investors thought was undervaluing the company, to $21.6 billion… (Read more.)
Apple's (NASDAQ:AAPL) $17 billion April bond offering was given the second-highest corporate bond rating by Moody's and Standard & Poor's, but the prices of Apple's bonds have been steadily falling as Treasury yields rise. This has had the unusual effect of making Apple's long-term corporate bonds more volatile and sensitive to price loss than the Cupertino-based company's stock… (Read more.)
Tesla (NASDAQ:TSLA)  has issued a recall of on the company's Model S sedan. In the wake of a substantial recall from General Motors (NYSE:GM) for 480,000 of its SUVs, Honda's (NYSE:HMC) recall of its S2000 and Acura RSX models for brake problems, and Chrysler's (FIATY.PK) recent recall of 1.56 million Jeep models, it seems that Tesla was feeling left out… (Read more.)
Don't Miss: Analyst: Tim Cook Deserves a Thumbs-Up.
Follow Jacqueline on Twitter @Jacqui_WSCS