Apple Cedes Market-Cap Crown and Netflix Beats the Bears: Market Recap
The markets closed up on Friday, with the S&P finishing above 1,500 after being fueled by a series of strong earnings reports.
At the close: DJIA: +0.51%, S&P 500: +0.54%, NASDAQ: +0.62%.
On the commodities front, Oil (NYSE:USO) was relatively flat at $95.99 per barrel. Precious metals were down, with Gold (NYSE:GLD) falling 0.73 percent to $1,657.70 per ounce, and Silver (NYSE:SLV) falling 1.65 percent to $31.20 per ounce. The yield on the 10-year T-bill climbed 0.094 points to 1.945 percent.
Here's your cheat sheet to today's top stock stories: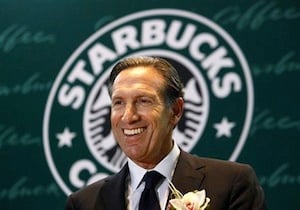 Starbucks (NASDAQ:SBUX) closed up 3.2 percent for the week, with all of those gains coming on Friday following strong first-quarter results. Earnings came in at $0.57 per share, which met expectations. Revenue came in at $3.8 billion, an increase of 11 percent year-over-year. Starbucks reaffirmed its outlook for the year, which is EPS between $2.09 and $2.15. This would represent growth of between 15 percent and 20 percent… (Read more.)
Apple (NASDAQ:AAPL) lost its status as the largest U.S. publicly traded company by market value during the trading day on Friday to Exxon Mobil (NYSE:XOM) as its shares continued to fall. With Apple falling 2.36 percent on the day to $439.88, its market value stood at roughly $413 billion. Exxon, with its shares largely flat on the day at $91.73, had a market value above $418 billion… (Read more.)
Netflix (NASDAQ:NFLX) climbed an additional 15.5 percent on Friday after surging 42 percent on Thursday following its fourth-quarter results. The company smashed expectations and embarrassed the bears with one hand, while laying the foundation for future growth with the other… (Read more.)
Yahoo (NASDAQ:YHOO) will release its fourth-quarter earnings on Monday after the markets close, and analysts are expecting the report to round off a fourth consecutive year of decreasing revenue. Expectations are that revenue will drop about 10 percent for the year to $4.6 billion as the company continues to lose advertising dollars to competitors… (Read more.)
Sales of new single-family homes in the United States declined last month, but prices continue to receive support from low inventory levels. According to new data released by the U.S. Department of Commerce, home sales in December dropped 7.3 percent to a seasonally adjusted 369,000-unit annual rate. It was the biggest monthly drop in almost two years and well below expectations of 385,000. In comparison, sales in November were revised 21,000 units higher to a 398,000-unit annual rate… (Read more.)
Lower production output from oil producers in the North Sea and manufacturers has brought Great Britain close to its third recession in four years. During the last three months of 2012, the economy shrank more than expected, with fourth-quarter Gross Domestic Product falling 0.3 percent, according to Britain's Office for National Statistics. This fall was greater than the 0.1 percent decline analysts had predicted, and it appears to be a sign of further bad news to come. The International Monetary Fund cut its 2013 forecast for economic growth to 1.0 percent from the 1.1 percent that was predicted last October… (Read more.)
Mario Draghi, president of the ECB, has been hailed as the euro's savior because of a bond-buying program that diffused what became a dangerous level of tension in the markets last year. Draghi spearheaded operations that demonstrated commitment to nations in crisis, such as Spain, Greece, and Italy, removing crippling uncertainty about the fate of the region and the currency.
At the World Economic Forum's annual meeting in Davos, currently underway, Draghi said that while the bond-buying maneuver helped remove risk for the euro, "we haven't seen an equal momentum on the real side of the economy." (Read more.)
Don't Miss: Can Money Buy Apple Love?