Apple Censors Anti-Censorship App in Chinese App Store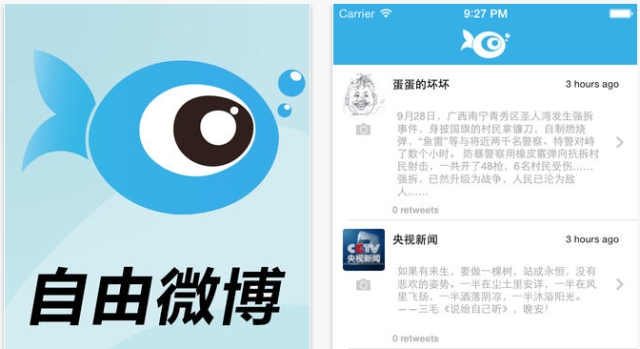 Apple (NASDAQ:AAPL) has removed an app from the Chinese App Store that allowed users to circumvent some of the censorship filters used by the country's government, reports Agence France-Presse. The FreeWeibo app allows users to view censored content on Sina Weibo, a popular microblogging website that is often referred to as "China's Twitter."
According to AFP, the app was developed by Chinese cyber-activists in cooperation with Radio Netherlands Worldwide. RNW's editor-in-chief, William Valkenburg, said he was told by Apple's App Review board that the app was pulled at the request of the Chinese government, "because it goes against local laws, and that they consider this a matter between the Chinese authorities and RNW." However, the app is only considered illegal in China and is still available in other markets through other country's App Stores.
According to RNW, the FreeWeibo app was available through the Chinese App Store for almost two months — from October 4 to November 28 – before it was removed by Apple. "We felt quite good about getting around the Chinese censors," said a FreeWeibo co-founder who goes by the pseudonym Charlie Smith. "So when we found Apple pulled it, that was a real downer. It's the worst kind of censorship we can face, because there's not much we can do to counteract it."
This is not the first time that Apple has pulled apps at the Chinese government's request. As previously reported by CNN, Apple removed the OpenDoor app from the Chinese App Store earlier this year. OpenDoor is a free app that provides users with anonymity on the Internet by randomizing their Internet Protocol, or IP, addresses. The California-based tech company has also previously removed apps that provided access to books forbidden by the Chinese government and a banned spiritual movement's news site.
Apple, like many tech companies, is eager to expand its presence in China's rapidly growing market. However, tech companies often face a dilemma in China: either cave in to the government's censorship requests or possibly lose access to a valuable market. As noted by AFP, Google (NASDAQ:GOOG) surrendered the Chinese search engine market and relocated its servers to Hong Kong after a falling out over similar demands from the Chinese government.
"Apple's image of being a hip and trendy company is eroding — the brand will hold little cachet for the consumer because of actions like these and in the long run that means less Apple devices will be sold," Charlie Smith told AFP. "Steve Jobs must be rolling over in his grave. This is a 'bad karma' move on Apple's part."
Here's how Apple traded on Friday.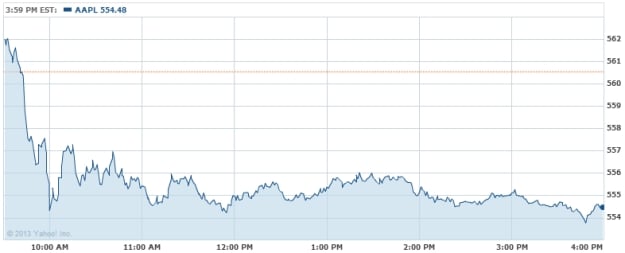 Follow Nathanael on Twitter (@ArnoldEtan_WSCS)
Don't Miss: 5 Amazing Apple Products That May Be Coming in 2014.