Apple CEO Signs Confidentiality Agreement and and 4 Morning Hot Stocks Trading Today
Dish Network Corp (NASDAQ:DISH): Current price $5.88
Dish Network Corp's (NASDAQ:DISH) competing $3.30 per share offer for Clearwire Corp (NASDAQ:CLWR) may only be a minor inconvenience as far as Sprint Nextel Corp (NYSE:S) is concerned, according to Reuters. Sources think a bidding war is unlikely considering Dish's offer contains many conditions some of which require prior approval of Sprint. Further, Dish may want to amend certain agreements between Sprint and Clearwire, which would require significant changes to Clearwire's corporate structure. Considering Sprint owns just over 50% of Clearwire, all this can hardly be expected to sail through. Of course, Clearwire is legally bound to consider the offer by Dish, which will likely be supported by Crest Financial Ltd, an 8% stakeholder, a persistent and vocal opponent of Sprint's offer.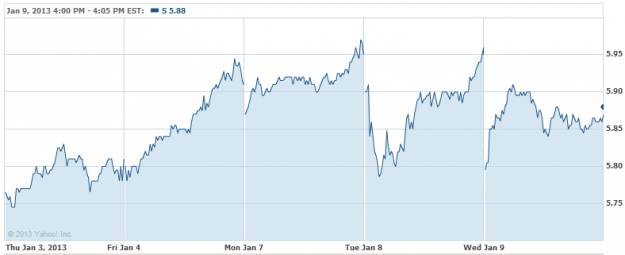 Nokia (NYSE:NOK): Current price $4.32
Nokia (NYSE:NOK) is racing higher before the bell, up 22.67%, after it provided enhanced guidance for Q4 2012 and a preliminary outlook for Q1 2013. It said the mobile phones business unit and the Lumia portfolio delivered better-than-expected results in Q4 and that operating expenses turned out lower than expected. The Nokia Siemens Networks business delivered record underlying profits during Q4 with a strong performance in higher margin product categories and geographic regions. Operating margins in both Devices and Services and Nokia Siemens Networks are expected to be better during the quarter. Stephen Elop, Nokia CEO, said, "We are pleased that Q4 2012 was a solid quarter where we exceeded expectations and delivered underlying profitability in Devices & Services and record underlying profitability in Nokia Siemens Networks."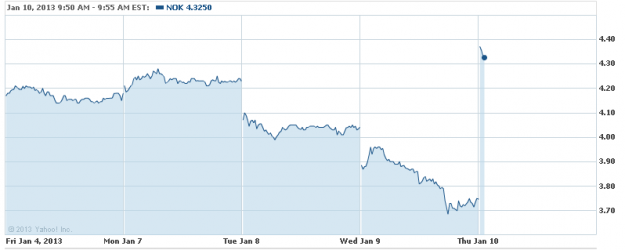 Start 2013 better than ever by saving time and making money with your Limited Time Offer for our highly-acclaimed Stock Picker Newsletter. Get our fresh Feature Stock Pick now!
Apple Inc (NASDAQ:AAPL): Current price $517.12
Reuters reports that Apple Inc (NASDAQ:AAPL) chief executive Tim Cook and China Mobile chairman Xi Guohua met this morning at the latter's Beijing headquarters and "discussed matters of cooperation," according to a China Mobile spokesman. Considering the two signed a confidentiality agreement, further details of the discussions were not available, but it's not difficult to guess Cook's agenda: Apple does not have a deal to sell iPhones with China Mobile, the world's largest mobile operator based on number of subscribers, losing out on access to a huge subscriber base. Considering Apple's vocal intentions to grow China as its largest market in the near future, Cook likely wants to break the deadlock in talks with China Mobile over the past few years.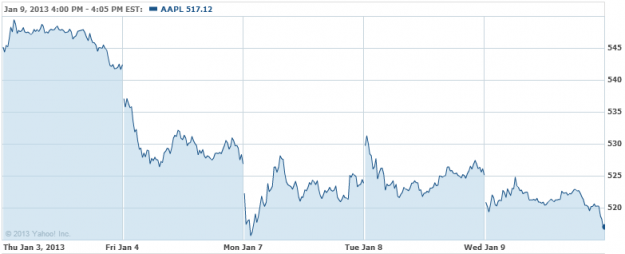 Herbalife (NYSE:HLF): Current price $39.95
When elephants fight it is the grass that gets trampled. Supplements manufacturer Herbalife (NYSE:HLF) has become the scene of a power struggle between Bill Ackman and his massive short of 20 million shares in the company on the one side, and hedge fund heavyweights Dan Loeb and Carl Icahn on the opposite and longside of the fence. Bemused investors watch as Ackman claims Herbalife is just a pyramid scheme, while Loeb says not so, calling the allegations "preposterous." The SEC is reportedly opening an enquiry into the company.

Don't Miss: China Gets the iPad Mini (Again).