Apple Chart of the Day: Growth Scaring Mr. Market Away?
Apple (NASDAQ:AAPL) recently released its financial results for the fiscal 2013 first quarter. The tech giant reported record numbers in revenue, profit, iPhones and iPads, but the quarter was not good enough for Mr. Market.
There were many positives about the earnings report, but investors may be realizing that the company is not growing like its glory days.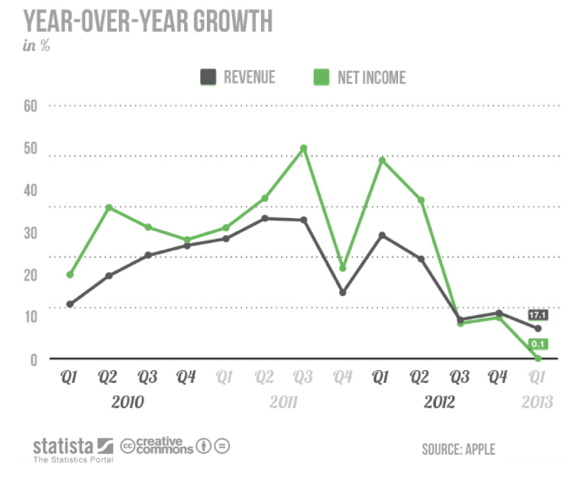 As the chart above from Statista shows, year-over-year revenue and net income growth are well below the peaks seen in recent years.
The research company explains, "The results did little to silence those who say that Apple has peaked, and that its potential for future growth is waning. Both revenue and profit growth decelerated significantly as Apple narrowly avoided the first year-over-year decline of its quarterly profits."
Despite a broad market rally in the Dow Jones Industrial Average (NYSEARCA:DIA) and the S&P 500 (NYSEARCA:SPY), shares of Apple plunged more than 12 percent on Thursday, finishing at $450. It was the lowest close in about a year. Apple also weighed on the Nasdaq (NASDAQ:QQQ), which closed the day in the red.
Investor Insight: How Big is the Apple Eco-System?