Apple Continues Dominance of Japan's Smartphone Market

Apple (NASDAQ:AAPL) is continuing to dominate Japan's smartphone market according to the latest sales data compiled by the country's leading mobile sales tracking company. BCN, otherwise known as Business Computer News, compiles a weekly list of the top-selling smartphones in Japan among the country's three major carriers: NTT DoCoMo (NYSE:DCM), SoftBank, and KDDI. Like the list compiled by BCN in late November, Apple has once again secured nine of the top ten spots on the weekly list of Japan's best-selling smartphones. However, this week China-based smartphone maker ZTE was knocked out of its tenth place spot by Sony's (NYSE:SNE) Xperia Z1.
The most recently published rankings also show that SoftBank and KDDI have secured the top four spots on BCN's top ten list and pushed NTT DoCoMo further down the list. The top-selling smartphone in Japan is the 32GB iPhone 5S offered by longtime Apple carrier SoftBank. KDDI's version of the same device holds the second place spot on BCN's list.
In late November, NTT DoCoMo held the second place spot on BCN's top ten list with the 32GB iPhone 5S. Although NTT DoCoMo is Japan's largest carrier with over 60 million subscribers, it is also the last of the country's three major carriers to offer the iPhone. NTT DoCoMo finally struck a deal with Apple in September after losing significant numbers of subscribers each month due to its lack of the iPhone.
However, the rate of subscribers leaving NTT DoCoMo has slowed since it began offering the iPhone. "From October, the number of customers exiting has decreased quite a lot," said CFO Kazuto Tsubouchi via Bloomberg. "If we can even get that down to a small minus figure that we can forecast — in sumo terms, we'll have gotten right back into the middle of the ring." According to BCN's latest smartphone rankings, NTT DoCoMo's version of the 32GB iPhone 5S has given the carrier the fifth best-selling smartphone in Japan. NTT DoCoMo also holds the ninth place ranking thanks to the 16GB iPhone 5S.
Apple's dominance of BCN's top ten smartphone list is in line with recently released data from market analyst company Kantar Worldpanel. Kantar found that Apple's share of the Japanese smartphone market hit 76.1 percent in October.
As noted by Chuck Jones at Forbes, Apple's 10K revealed that Japan was the iPhone maker's fastest growing region with 27 percent year-over-year growth in fiscal 2013. Jones also noted that Apple's operating profit margin in Japan is over 50 percent, higher than any other region. For all these reasons, Japan will likely be a major source of revenue for Apple in the December quarter.
Here's how Apple has traded over the past five sessions.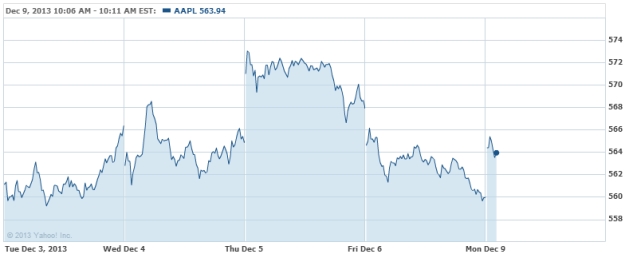 Follow Nathanael on Twitter (@ArnoldEtan_WSCS)
Don't Miss: Here's Apple's Latest Mac Pro Debut Sign.