Apple Crushed By Google in the Stock Market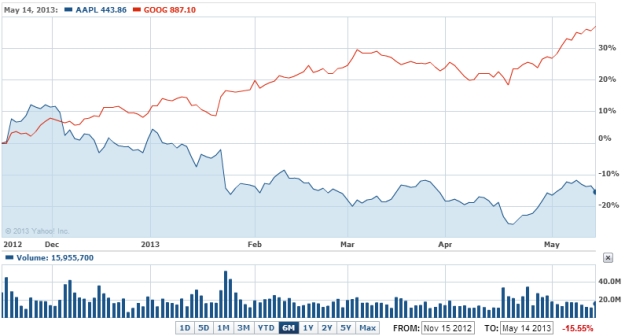 Take a look at those diverging lines. This is how Apple (NASDAQ:AAPL) and Google (NASDAQ:GOOG) have traded over the past six months.
Comparing the two companies' stock movement over the past six months is clearly like watching one bird soar into the clouds while another struggles to keep from crashing into low-hanging obstacles.
After climbing to a peak of $463.84 last week, Apple stock is once again on a downward slide, falling 3.38 percent in trading on Wednesday and over 19 percent this year alone. On the other hand, Google stock has risen about 28 percent this year and recently broke the $900 mark. Google was as high as $915 in late afternoon trading on Wednesday. So what's keeping Apple from chasing Google into the clouds?
Both companies became successful thanks to their dominance in their respective fields. Apple took the mobile phone market by storm with the debut of the iPhone in 2007, and single-handedly created the tablet market when it unveiled the revolutionary iPad in 2010. Google became the dominant Internet search engine soon after it was formed and has even become synonymous with Internet searching.
However, since December of 2012, Google has been in a fairly steady upward trajectory while Apple has been in a classic downtrend. One reason may be Google's ability to constantly evolve. Google has moved beyond its origins as an Internet search giant into various other technologies and sources of revenue. Google has developed everything from mobile and desktop operating systems to driverless cars.
Now Google has even seized the "cool new tech" crown from its Cupertino-based rival by introducing the latest tech fad with its Google Glass. While Apple seems content to incrementally build on the success of its iPhone and iPad products, Google has made an effort to constantly probe new technologies and ways to monetize those technologies.
Apple is notorious for keeping a tight control on every aspect of its business, from its supply chain to its closed operating systems. Although this is one reason Apple is able to maintain the high level of quality in its products, it is perhaps also one reason why it is unable to innovate as fast as Google can. Google's open Android operating system has been criticized for its security flaws, but it has already claimed over 70 percent of the global smartphone market. While it currently may not be able to effectively monetize the market as well as Apple has, at this rate the economics of size will overtake Apple's ability to better monetize its own OS.
On the other hand, it is also well-known as Wall Street's comeback kid. The only question is: will the company be able to keep its user base engaged until it silences the unbelievers with the next launch of another must-have tech product?
Apple closed down 3.38 percent, or $15.01, at $428.85 today. Google closed up 3.25 percent, or $28.79, at $915.89.
Don't Miss: David Tepper Sours On Apple.