Apple Cuts iPad Costs for Los Angeles Schools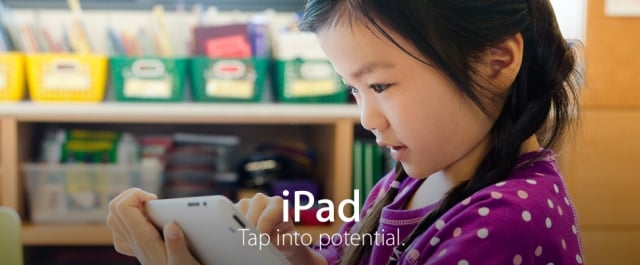 The Los Angeles Unified School District, or LAUSD, will pay less than what was originally expected for some of the iPads that it is buying from Apple (AAPL) as part of a $1-billion initiative to supply all of the district's students with computers, reports the Los Angeles Times. The district's original multimillion dollar contract with Apple only included iPads that were pre-loaded with educational curriculum software at a cost of $699 per device before taxes and other fees.
According to the Los Angeles Times, the renegotiated deal lowers the cost of some of the iPads to $504 per device without the educational curriculum software. The lower price will only apply to approximately 45,500 iPads that do not require the curriculum. Including taxes and other fees, a fully-loaded iPad will still cost the district about $768 per device.
Some critics were concerned that the three-year curriculum license would expire before the school was able to implement the use of the iPads, reports the Los Angeles Times. However, the new deal stipulates that the three-year license won't begin until the software is activated. LAUSD's renegotiated deal with Apple also requires the California-based company to supply the district with the latest iPad models. The previous deal would have supplied the schools with discontinued iPad models.
The education market has become increasingly lucrative for Apple over the last several quarters. Apple CEO Tim Cook noted the growing importance of this market during the company's fiscal first quarter earnings call earlier this month. "We had our best education quarter ever," observed Cook. "We went over a [sic] $1 billion in revenues for the first time ever. We were up strongly year-over-year up 8%. iPad was up 22% year-over-year and the Mac was up 8% and as you know the PC market was down 10% in the aggregate and likely down even more in education."
"Our share of tablet in education is 94%," added Cook. "So we feel like we are doing really well here." Cook also pointed out that the Los Angeles Unified School District isn't the only school district that has adopted the iPad as an educational tool.
"The Coachella Valley School District in California is currently distributing over 19,000 iPads to its entire student body," stated Cook. "In South Carolina every one of the Horry County School District's 10,000 middle school students will receive an iPad this year. These broad deployments are in part driven by the great educational content available on iPad and we're pleased to report that iBooks textbooks are now available across the U.S., U.K. and Australian national high school curricula."
Apple has also recently expanded international access to its large catalog of educational content, including its free iTunes U app. "The incredible content and tools available for iPad provide teachers with new ways to customize learning unlike ever before," noted Internet Software and Services SVP Eddy Cue. "We can't wait to see how teachers in even more countries will create their new lesson plans with interactive textbooks, apps and rich digital content."
Follow Nathanael on Twitter (@ArnoldEtan_WSCS)
More from Wall St. Cheat Sheet: