Apple Debuts New iPhones, Microsoft's CEO Search Goes On: Market Recap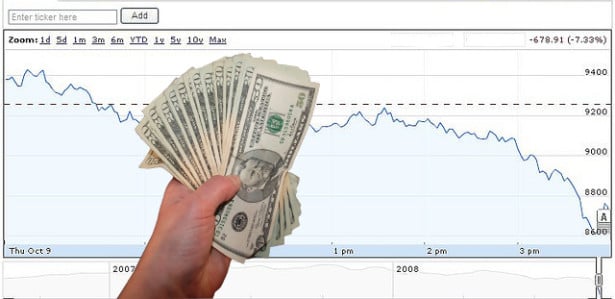 U.S. stocks climbed Tuesday on data that showed the Chinese economy is growing and tensions over Syria are starting to ease. Goldman Sachs (NYSE:GS), Visa (NYSE:V), and Nike (NYSE:NKE) will replace Bank of America (NYSE:BAC), Hewlett-Packard (NYSE:HPQ), and Alcoa (NYSE:AA) in the Dow Jones Industrial Average. Apple (NASDAQ:AAPL) stock fell 2.3 percent after the company debuted its new line of iPhones at a media event held in Cupertino, California.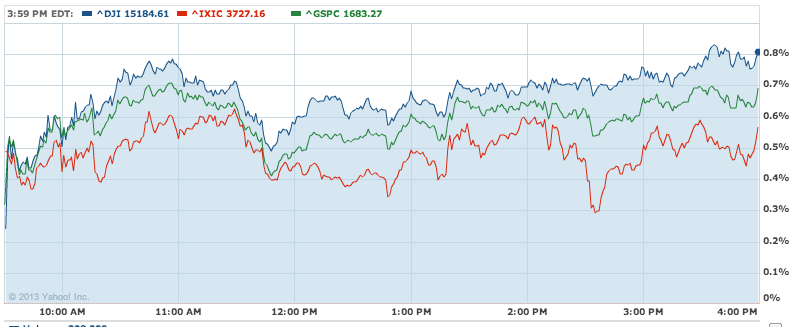 Gold: -1.63% to $1,364.10 per ounce; Oil: -2.07% to $107.25 per barrel; U.S. 10-Year: +2.14 to 2.959%.
Here's What New Data Means for a Chinese Economic Recovery: New data show that the Chinese economy is poised to be on the verge of a recovery, Reuters reports. Factory output rose in August to 10.2 percent higher than the corresponding value a year ago, posting the largest increase in nearly a year and a half. Retail sales were also up, posting a 13.4 percent increase in August compared to 2012 data… (Read more.)
Retail Sales Have Consumer Staples to Thank for Growth: "Reports from the twelve Federal Reserve Districts suggest that national economic activity continued to expand at a modest to moderate pace during the reporting period of early July through late August," read the Federal Reserve Beige Book, a bimonthly summary of commentary gathered from the 12 Federal Reserve districts that provides an outlook on the economy… (Read more.)
Employers Hoarding Labor: Here's Why That's Bad News: "It's just a very tough job market now. There's no other way of putting it," Daniel Opler, a professor of history and labor expert at the College of Mount St.Vincent, told CNBC for a Labor Day article. The Department of Labor's August Employment Situation Report was an indication that the labor market recovery was stuck in a rut… (Read more.)
Here's your cheat sheet to today's top stocks stories.
Apple (NASDAQ:AAPL) revealed its new iPhone lineup at a media event Tuesday, unveiling the iPhone 5S and cheaper iPhone 5C. Both phones looked a lot like media leaks and rumors had painted them. A CNET poll following the event showed that slightly more than half of respondents, 54 percent, believe that Tuesday's new phone announcements showed Apple is still a leading innovator, while 46 percent believe the company is falling behind… (Read more.)
Microsoft (NASDAQ:MSFT) CEO Steve Ballmer announced his resignation last month, and now, the company's board is looking for his replacement. The list of possible internal and external CEO candidates is reported to be close to 40 people, but an article from Reuters highlights Ford Motor Co. (NYSE:F) CEO Alan Mulally and Computer Sciences Corp. (NYSE:CSC) CEO Mike Lawrie as the frontrunners for the job in many investors' eyes… (Read more.)
PVH Corp. (NYSE:PVH), owner of luxury brands like Tommy Hilfiger and Calvin Klein, reported earnings Tuesday that were further evidence of how the retail world is continuing to struggle. Earnings per share only came in at $1.39, a 40 percent decrease year over year and well below analyst expectations of $2.28. CEO Emanuel Chirico blamed the fall on "volatility in consumer spending during the second quarter, particularly highlighted by weakness in the United States and Europe."
BlackBerry (NASDAQ:BBRY) employees were subject to another round of job cuts Monday, and this time, reports indicate they were part of the company's U.S. sales force. According to technology blog Cantech Letter, the Canadian smartphone maker laid off more than half of its sales force early in the week, and the cuts aren't expected to stop there… (Read more.)
Yahoo (NASDAQ:YHOO) announced a new app for Apple iOS devices on Tuesday called Yahoo Screen, which seeks to recreate the experience of channel surfing on mobile. The announcement came just in time for Apple's release of the new iPhone lineup late Tuesday afternoon… (Read more.)
Alcoa (NYSE:AA), Hewlett-Packard (NYSE:HPQ), and Bank of America (NYSE:BAC) will no longer be components of the Dow Jones Industrial Average as of Tuesday. The companies will be replaced by Nike (NYSE:NKE), Visa (NYSE:V), and Goldman Sachs (NYSE:GS), respectively… (Read more.)
Follow Jacqueline on Twitter @Jacqui_WSCS
Don't Miss: Study: More First-Time Smartphone Buyers Turn to Apple.