Apple Devices Cleared By Pentagon and 2 Other Hot Stocks to Watch
Apple (NASDAQ:AAPL): Current price $432.32
On Friday, the Department of Defense approved the use of Apple's products that run a version of the iOS 6 mobile platform. This move is seen as key to the firm now being able to rival Samsung and BlackBerry for military sales, and could ultimately ignite a three-way battle for a market long dominated by the latter. On May 2, the Pentagon approved Samsung's devices, along with BlackBerry 10 smartphones and BlackBerry PlayBook tablets.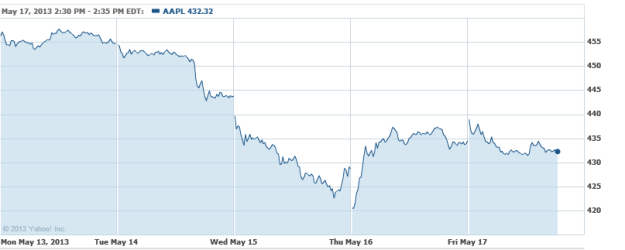 Comcast Corporation (NASDAQ:CMCSA): Current price $42.46
The number one domestic cable TV operator is rapidly changing its focus from the small-sized to the mid-sized business segment, as it recently reached an agreement with the hospitality real estate developer and management firm, Raymond Management Co., to supply triple-play bundled voice, video, and data services to seven hotels in the greater Chicago area and in Ann Arbor. The SMB segment has become a very large growth opportunity for the cable television industry, and big cable TV operators like Comcast and Time Warner Cable are examining the segment as a counter strategy to hedge their loss in the legacy video offering market, while telecoms such as Verizon Communications and AT&T are assertively offering fiber-based video services.

Dell (NASDAQ:DELL): Current price $13.43
The Holland Casino has supplanted its HP EVA storage system with a Dell Storage solution, and now benefits from a reliable and flexible information tech platform for key business processes, and also enjoying 75 percent cost savings when buying storage disks. Moreover, Holland Casino staff can take advantage of a smoother user experience. Holland Casino hosts IT for its 14 sites in a centralized data center that supports 600 end users, alongside applications that hold customer contact and gaming information.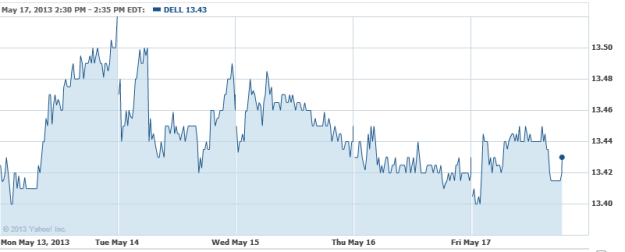 Don't Miss: Will the iPad Mini 2 Hit By Summer's End?