Apple Devices May Soon Last Even Longer

A recently discovered patent application reveals that Apple (NASDAQ:AAPL) is exploring a "smart" power management system for mobile devices, reports Apple Insider. Although many smartphones and tablets already feature a power conservation mode, Apple's patent outlines an intelligent power management system that would dynamically adjust a mobile device's power consumption based on its usage patterns and proximity to charging locations.
In the patent titled "Power Management for Electronic Devices," Apple proposes using a processor that will determine "an estimated use of the mobile electronic device during an upcoming time period." If the processor determines that the device may run out of power in a particular time period, it will automatically adjust "one or more characteristics."
The iPhone or iPad characteristics that would automatically be adjusted could include the data fetching rate, the display brightness, and any non-essential applications. One embodiment of this method would use a typical usage profile to determine the estimated power usage pattern of a mobile device.
This "typical usage" information could be gathered during a test period, or it could be manually entered by the user. The information that the power management system uses to determine power usage includes, "typical charging locations, charging patterns, and/or time between charging locations for the mobile electronic device."
"For example, using a GPS sensor the mobile electronic device may determine, based on its current location, that it may be at least eight hours before the mobile electronic device will be recharged or otherwise connected to an external power source. In this case, the mobile electronic device may modify the power management scheme by adjusting one or more characteristics or settings," states Apple in its patent application.
This intelligent power management system outlined in this patent could be crucially important for Apple's future mobile devices, as more power-draining functions are added and devices continue to decrease in size. Here's how Apple has traded so far today.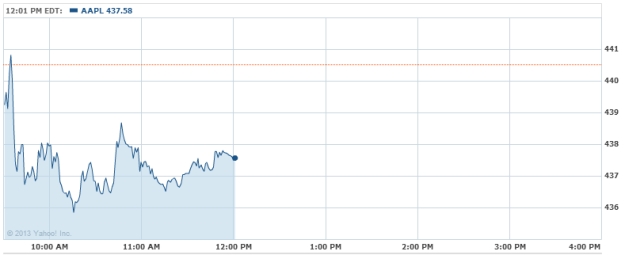 Follow Nathanael on Twitter (@ArnoldEtan_WSCS)
Don't Miss: Cramer on Apple: Not as Bad as the Analysts Say.