Apple Estimates Get a Boost and 2 Other Tech Titans Making Noise
Apple (NASDAQ:AAPL): Current price $425.45
Canaccord Genuity reports that Apple's iPhone sales have surpassed some estimates in the fiscal second quarter in the midst of strong demand for older models, prompting the research firm to elevate its projection by 7.2 percent to 37 million units. Analyst Michael Walkley at Canaccord wrote that for the fiscal third quarter ending in June, Apple will likely sell 27 million iPhones, up from a prior projection of 25 million, and that the average price for the iPhone probably dropped to $601 in the second quarter, which ended in March, because more users than anticipated bought the reduced-cost iPhone 4S and iPhone 4 handsets. The iPhone is Apple's number-one selling product, comprising over half of total revenue.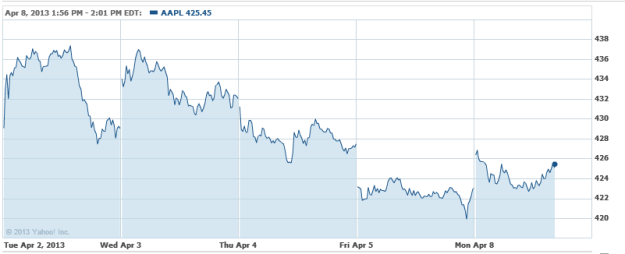 Google (NASDAQ:GOOG): Current price $769.30
Google is in discussions to buy cross-platform messaging application WhatsApp, according to a Digital Trend report, which claims that Google and WhatsApp have been talking for "four or five weeks," according to a knowledgeable source. Thus far, WhatsApp has been able to push the purchase price to almost $1 billion by "playing hardball," said the source. WhatsApp is one of the most popular messaging applications available to mobile users, and the app allows them on nearly any mobile platform, including Android, iOS, BlackBerry, and Windows Phone to send instant messages, audio, images, and video messages to one another.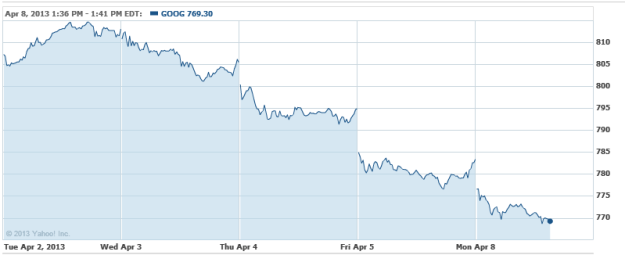 BlackBerry (NASDAQ:BBRY): Current price $14.72
Presales for the keypad version of the new BlackBerry 10 smartphone are ongoing in the United Kingdom. Two major retailers there, Carphone Warehouse and Phones4u, commenced selling the product on their websites over the weekend. The BlackBerry Q10 phone should arrive in stores near the end of April. Many longtime BlackBerry users have chosen to wait for it rather than buy the touchscreen model that appeared in stores earlier in 2013.

Don't Miss: Google Fiber Rumor Check: Is Austin, Texas on the Map?