Apple Expands Supplier Family, Boeing Stays Seattle-Centric, and 3 More Hot Stocks
Apple Inc. (NASDAQ:AAPL): Apple will be adding some new contract manufacturing partners in its Asian operations to increase the production of its smartphones and tablets, supply chain sources told The Wall Street Journal. Apple is planning to outsource the manufacturing of the iPhone 5C to Wistron Corp., based in Taiwan. The sources also indicated that Apple will use Compal Communications to assemble its iPad Mini starting next year. The supplier roster is expanding, since Apple's main producer — Hon Hai, also known as Foxconn — has its hands full with the company's iPhone 5S.
Boeing Co. (NYSE:BA): With a deal with Washington-based machinists reportedly near ratification, it seems like Boeing's fuselages and wing assemblies for the 777X will be assembled in the northwestern state, which passed the legislation needed to extend the financial incentives for Boeing to continue its local production. Reuters notes that the agreement is a crucial point for Washington — Seattle, especially — as it is competing with cheaper labor and more favorable tax codes in the south.

OpenTable Inc. (NASDAQ:OPEN): OpenTable shares are soaring as the company pulls a big third-quarter beat and a major uptick in restaurant additions. Though it added just 317 restaurants in the second quarter and 440 in the first, OpenTable piled up 2,690 restaurants in the third, thanks largely to an aggressive marketing campaign. The total base of restaurants is now 30,964. The upswing yielded a 30 percent year-over-year gain in seated diners to 38.5 million, a 27 percent surge in reservation revenue to $27.8 million, and an 11 percent swell in subscription revenue to $15.8 million.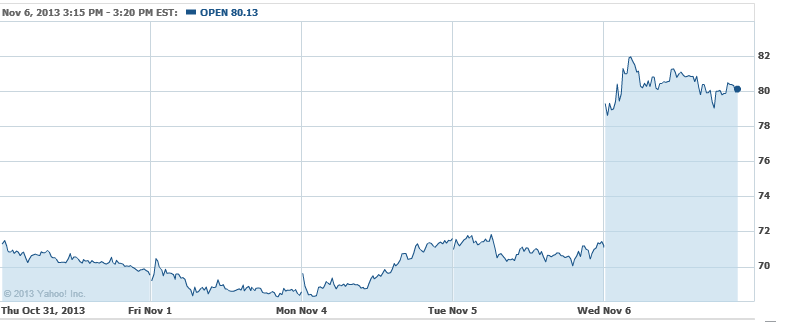 Web.com Group Inc. (NASDAQ:WWWW): Web.com shares are spiking as the company reports earnings per share of 55 cents, beating by 2 cents, and revenues of $134.8 million; better-than-expected user stats are likely fueling the surge, as subscribers increased 1 percent over the quarter prior, to 3.088 million, and ARPU increased 1.7 percent over the last quarter to $14.33, with the monthly retention rate staying steady at  about 99 percent.

eBay Inc. (NASDAQ:EBAY): EBay shares are ticking higher as the rumor mill speculates that activist investor Carl Icahn has opened up a stake in the retailer, though both Icahn and eBay have yet to confirm or deny the rumors.

Don't Miss: Apple Publishes Report on NSA Requests.