Apple Expects China to Overtake US and 3 Tech Titans on the Move
Google Inc. (NASDAQ:GOOG): Current price $737.23
Which company has racked up the most patents in the United States over the last 12 months? That has always brought with it bragging rights, along with offering a general sense of a company's innovative capacities. Believe it or not, the winner is not Google Inc., although they finally made it to the top 50, according to figures from IFI Claims Patent Services, a company which produces databases of patent information. The search giant ranked No. 21 with 1,151 patents. Still, that just edged out Apple (NASDAQ:AAPL), which received 1,136 grants.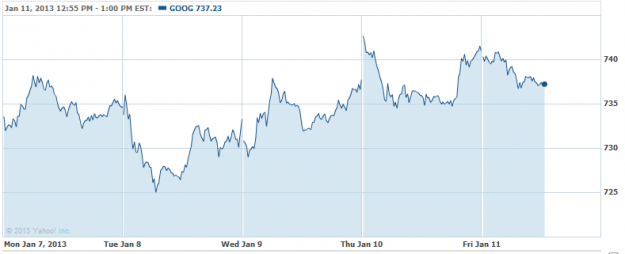 Microsoft Corporation (NASDAQ:MSFT): Current price $26.71
Microsoft Corporation's Messenger service will survive in spite of the upcoming death of the Live Messenger client. Earlier this week, Microsoft announced that they plan to retire their Live Messenger client on March 15, forcing users to move to Skype for their IM needs. Since buying Skype in 2011, Microsoft has continually tweaked the VoIP service, which now supports Microsoft account logins and integrates with Outlook.

Are these stocks a buy or sell? Let us help you decide. Check out our Wall St. Cheat Sheet Stock Picker Newsletter now >>
Apple Inc. (NASDAQ:AAPL): Current price $520.69
Chief Executive Officer, Tim Cook, told a Chinese government news agency that Apple expects China to overtake the United States as their largest market, saying "China is currently our second largest market. I believe it will become our first."

Intel Corporation (NASDAQ:INTC):  Current price $21.91
Chip industry watchers were somewhat surprised earlier this week when Intel Corporation revealed, at their CES press conference, that they have begun fabbing Ivy Bridge processors that draw only 7W of power and are shipping them to device makers for use in smartphones and tablets. However, further investigation has found that Intel Corporation's claim to have developed 7W Ivy Bridge chips at least partly rests on some marketing sleight-of-hand and it remains to be seen how well these processors will actually perform. That is, whether or not Intel will get away with this clever marketing ploy in the highly competitive mobile device markets.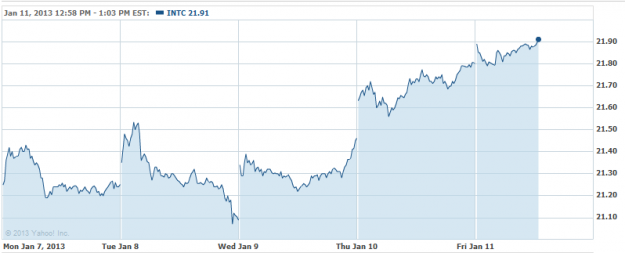 Don't Miss: Will Apple and China Mobile Partner Up?