Apple Explores OLED For Its Smartwatch and 2 Other Hot Stocks to Watch
Apple (NASDAQ:AAPL): Current price $442.52
Apple is said to be testing 1.5-inch OLED displays for its smartwatch, according to Dylan Love at Business Insider, from MacRumors. OLED constitutes the same display tech that is employed in higher-end televisions and computer monitors and the 1.5-inch displays come from the firm RiTdisplay. It is thought that Foxconn is making 1,000 of the watches, which would be sufficient for a fast trial run .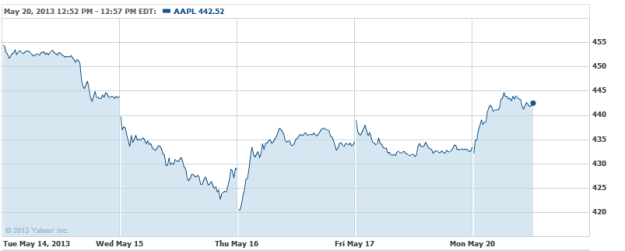 JA Solar Holdings Co. (NASDAQ:JASO): Current price $8.32
The solar-cell producer sees its shares jumping the most in five months, due to first-quarter shipments surpassing estimates on strong demand in Japan. JA Solar's American depositary receipts moved up by 19 percent to $6.66 at 9:31 a.m. in New York, having prior to that rising by 21 percent, the most intraday gain since December 12. What is more, the stocks have gained 56 percent thus far in 2013. On Monday, the firm said in a statement that deliveries of solar cells and modules in the quarter came to 442.7 megawatts, exceeding the March forecast of between 410 megawatts and 430 megawatts.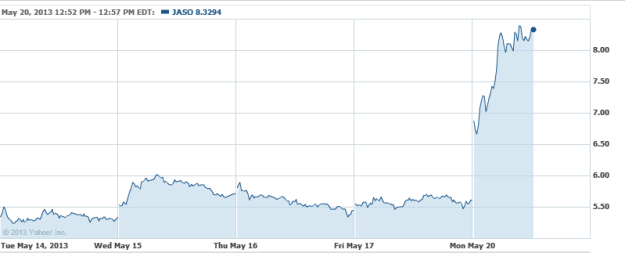 Peregrine Pharmaceuticals (NASDAQ: PPHM): Current price $1.82
On Monday, Peregrine reported that it has made an agreement with the FDA on a Phase III registration trial design of its lead clinical immunotherapeutic candidate bavituximab in second-line non-small cell lung cancer. The trial design was backed by promising data from a Phase IIb trial in patients treated with bavituximab plus docetaxel. Final data from the evaluation will be presented at the upcoming ASCO Annual Meeting on June 1. Peregrine is a biopharmaceutical firm developing first-in-class monoclonal antibodies concentrated on the treatment and diagnosis of cancer.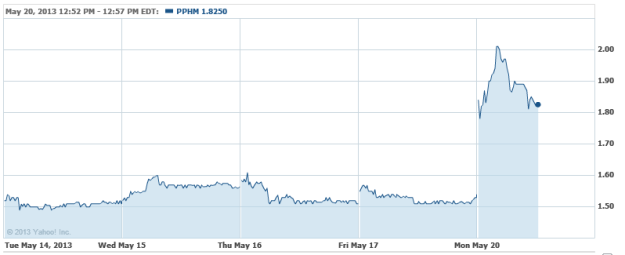 Don't Miss: Apple TV Gains This Groundbreaking TV Network.