Apple Faces Supply Issues, General Mills's Solid Quarter, and 3 More Hot Stocks
Apple Inc. (NASDAQ:AAPL): "We will have grotesquely unavailable inventory," one source told AllThingsD, regarding a huge shortage of iPhone 5S supply when the new phones hit stores Friday. Another source expects relatively low shipments, adding that demand could be less than expected thanks to interest in the 5C. If you're waiting for the 5C — which took pre-orders — "supply there appears to be significantly better," AllThingsD says.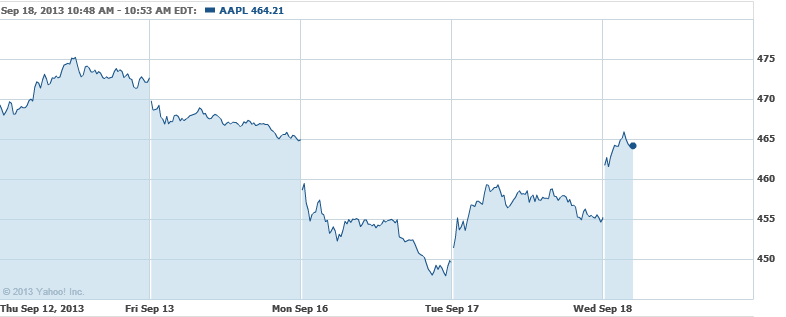 General Mills (NYSE:GIS): Earnings per share of 70 cents fell in line for the first quarter, while revenue of $4.37 billion managed to beat expectations by $0.07 billion. New businesses added 5 percent to General Mills's sales growth during the quarter as the U.S. retail segment saw a combination of pound volume and mix gains push a 4 percent increase in sales over the same period last year.

FedEx Corp. (NYSE:FDX): Quarterly EPS of $1.53 was enough to beat estimates by 3 cents, and revenue of $11 billion also passed predictions, by $0.03 billion. Freight shipping revenue rose 11 percent while ground shipping revenue saw an identical 11 percent surge in what the company called a "tepid" climate for economic growth. Modernization of the fleet has led to an operating margin bump of 30 bps, to 7.2 percent.

Smithfield Foods (NYSE:SFD): Shuanghui International is apparently on course to grab more than 50 percent of Smithfield's investors who are in favor of its $4.7 billion acquisition of Smithfield, Reuters reports. The purchase would be the largest buy of an American firm by a Chinese enterprise. The news also means that Starboard Value, which is opposed to the deal, needs to crank up its rhetoric to find another buyer willing to pay more for Smithfield.

Adobe Systems Inc. (NASDAQ:ADBE): Shares of Adobe are surging nearly 7 percent as the company announced EPS of 32 cents, 2 cents below expectations, and $995.1 million, missing by $14.1 million. However, Adobe added 331,000 paid Creative Cloud subscribers in the period, trumping the second quarter's 221,000 and 153,000 in the first quarter. The total subscriber base is now 1.031 million.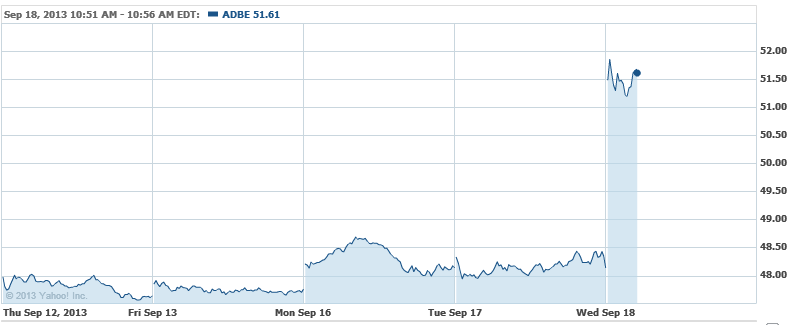 Don't Miss: 7 New iOS 7 Features to Look Forward To.