Apple Fighting These DoJ Charges Over Steve Jobs' Legacy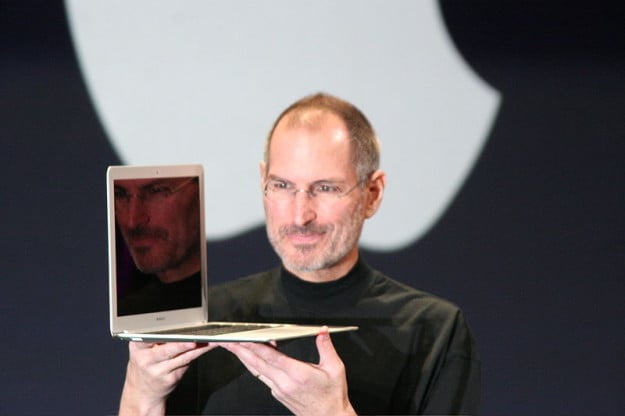 Is Apple (NASDAQ:AAPL) fighting the U.S. Department of Justice's antitrust lawsuit because the charges are bogus or is the Cupertino-based tech company just trying to clear Steve Jobs' name? The DoJ alleges that the company conspired with publishers to price-fix e-books and much of the evidence comes from the email records of various Apple executives. Some of these emails are from Apple's vaunted CEO Steve Jobs, including one that asks the head of HarperCollins to "Throw in with Apple and see if we can all make a go of this to create a real mainstream ebooks market at $12.99 and $14.99."
The DoJ alleges that the conspiracy started as a way to challenge Amazon's (NASDAQ:AMZN) dominance of the e-book market through its popular Kindle device and its strategy of selling newly released e-books for $9.99. However, Apple contends that the DoJ is deliberately distorting the overall intention of Jobs' email.
"The DoJ's case is based on fictions and incomplete quotations. The actual evidence proves that Apple did not conspire to fix prices in the e-book business. We look forward to trial," said Orin Snyder, one of Apple's lawyers via The New York Times.
Rather than demonstrating the creation of a conspiracy, Apple argues in pretrial papers that the e-mail only shows that Jobs was "proposing an alternative business model to HarperCollins, and candidly recognizing that Apple has no power to predict or influence other retailers."
The antitrust lawsuit was originally filed by the DoJ on April 11, 2012. The original complaint also includes a list of Apple's alleged co-conspirators, including Hachette Book Group, Inc.; HarperCollins Publishers L.L.C.; Verlagsgruppe Georg von Holtzbrinck GmbH and Holtzbrinck Publishers, LLC (doing business as Macmillan); The Penguin Group Inc.; and Simon & Schuster, Inc. However, all of the other defendants have already settled with the U.S. government and Apple is the only remaining defendant in the case.
The trial is scheduled to begin June 3 in the District Court for the Southern District of New York. Here's how Apple has traded over the past week.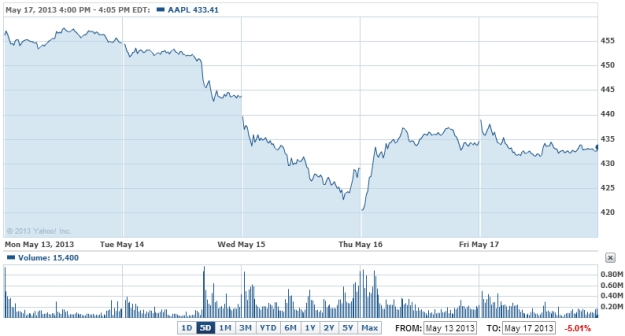 Follow Nathanael on Twitter (@ArnoldEtan_WSCS)
Don't Miss: This Apple Supplier Is Still Messing Up Labor Practices.