Apple Files to Overturn E-Books Price-Fixing Lawsuit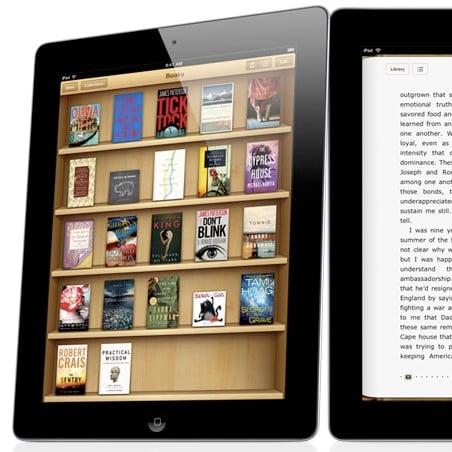 Apple Inc. (NASDAQ:AAPL) has officially filed to overturn a July 2013 ruling that found the company liable of conspiring with five major book publishers to fix the cost of e-books sold through Apple's iBookstore. The original complaint was filed by the Department of Justice more than two years ago, AppleInsider reports. The case has since spurned $840 million in state and consumers claims.
Apple's introductory statement reveals a few new arguments: for one, the company claims that rather than stifling competition, the iBookstore and iPad created and encouraged competition in the e-book sphere. The company points out that prior to its entrance into e-books, the market was dominated by rival Amazon. At the time, Amazon accounted for nine out of every ten e-book sales, Apple claims.
The case centers around the strategy by which Apple entered the e-books market; the company used what's called an "agency model," which differed from Amazon's "wholesale model" in that it contains a clause known as the "most favored nations" clause forbidding content owners from selling their products to another retailer for a lower price. It was Apple's agency model contracts that the Department of Justice (DOJ) took issue with in 2012. The DOJ claims that Apple's agency model negatively impacted Amazon's wholesale model, and made it difficult for other retailers to compete on price.
"The district court's ruling that Apple, in the very act of launching the iPad, inventing the iBooks store, and entering the e-books market, violated the Sherman Act is a radical departure from modern antitrust law and policy. If allowed to stand, the ruling will stifle innovation, chill competition, and harm consumers," the company's introductory statement reads.
Another recent report from Bloomberg on Wednesday levels yet another argument, in which the tech giant claims that it had "no knowledge that the publishers were engaged in a conspiracy in December 2009 or at any other point," according to the same filing. "It was not unlawful for Apple to take advantage of retail market discord by using lawful agency agreements to enter the market and compete with Amazon," it continues.
A spokesperson for the Justice Department, Gina Talamona, said the government plans to file its response to the appeal in May, according to Bloomberg.
The original July ruling by federal Judge Cote found Apple liable to 33 states that joined the Justice Department's suit; state plaintiffs have asked Cote to assess damages at three times the amount of $280 million, Bloomberg adds.
Apple's sales of e-books, music, movies, software, and services totaled $12.9 billion in 2012, or approximately 8.2 percent of Apple's total revenue. The company first introduced e-books in an effort to boost the appeal of the iPad in 2010.
More From Wall Street Cheat Sheet: