Apple Gets Greener With Planned Expansion of Recycle Program

A recently discovered job listing posted on Apple's (NASDAQ:AAPL) website suggests that the California-based company is planning a further expansion of its iPhone Reuse and Recycling Program, reports 9to5Mac. According to the job listing, Apple is "seeking an experienced Program Manager to manage current and future Global Reuse (Trade-in) Programs for Apple Online Store, Education, Retail and the Reseller Channel."
Apple currently operates a mail-in iPhone trade-in program via its website, as well as through its Apple Store locations in the U.S. and the U.K. However, the recent job listing detailed a significant global expansion of the Reuse and Recycling Program.
"This position will be responsible for coordinating and managing all current world-wide programs, developing and implementing programs in emerging markets, with emphasis in APAC [Asia-Pacific] and ALAC [Latin American & Caribbean], while enhancing current EMEIA [Europe, Middle East, India & Africa] and North American programs," stated Apple.
According to 9to5Mac, Apple already runs the website-based Reuse and Recycling Program in many of these emerging markets. This suggests that Apple is intending to expand its Reuse and Recycling Program through the Apple Stores in these countries.
Last week, the Times of India reported that Apple initiated an iPhone trade-in program in India that offered users a substantial discount on their purchase of a new iPhone 5C if they traded in their old iPhone 4 or iPhone 4S. Now it appears that similar trade-in programs will soon be implemented in other emerging markets. Apple referred to the reuse and recycling of electronics as a "mega trend" and noted that keeping the company on the edge of this trend will be a priority for the program manager.
Although Apple's Reuse and Recycling Program is primarily geared towards getting customers to upgrade their devices, the job listing noted that the program has other goals besides the sale of new iPhones. Some of the other program objectives included, "brand protection," "key material recovery," "environmental goals," and "Growing Apple's market share in the secondary electronics market."
Here's how Apple closed on Friday.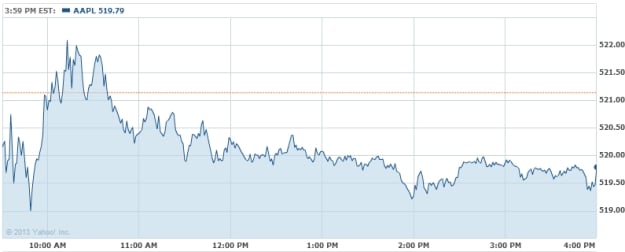 Follow Nathanael on Twitter (@ArnoldEtan_WSCS)
Don't Miss: Einhorn Gives Apple Team a Barely Passing Grade.