Apple Has This Sweet Surprise For Mac Buyers
With the personal computer market increasingly squeezed by the arrival of tablets, Apple (NASDAQ:AAPL) has decided to start wooing Mac customers with an aggressive pricing strategy.
The company introduced slight upgrades to its MacBook line on Wednesday, and alongside, announced that it was dropping prices of several of its notebooks.
The starting version of the MacBook Pro with Retina display will now be sold for $1,499, while a new version with a 2.6 GHz processor and 256 GB of flash memory version will sell for $1,699. The latter is the same price Apple announced in October for a slower machine with half the storage. The company also lowered the price of its 13-inch MacBook Air laptop with 256 GB flash memory to $1,299 from $1,399.
In addition, the 15-inch MacBook Pro has been given a faster 2.4 GHz quad-core processor, while the top-end 15-inch notebook will flaunt a 2.7 GHz quad-core processor and 16GB of memory.
Worldwide PC shipments are falling in the face of the rising popularity of tablets. Sales fell 3.2 percent last year after seeing a 1.7 percent gain in 2011, according to IDC. Apple, while benefitting from the rise of tablets, also reported a steep decline in Mac sales in the holiday quarter. The company sold 4.1 million Macs in the December quarter, down 21 percent from a year earlier.
Investors have been worried that the iPad is cannibalizing the Mac line, but chief executive Tim Cook has refused to be affected by the concerns. "The cannibalization question raises its head a lot," Cook said at the Goldman Sachs tech conference in San Francisco on Tuesday.
"The truth is, we really don't think about it that much. Our basic belief is, if we don't cannibalize, someone else will. In the case of iPad particularly, I would argue that the Windows PC market is huge and there's a lot more there to cannibalize then there is of Mac, or of iPad," he said.
Here's how Apple (NASDAQ:AAPL) has traded over the past week: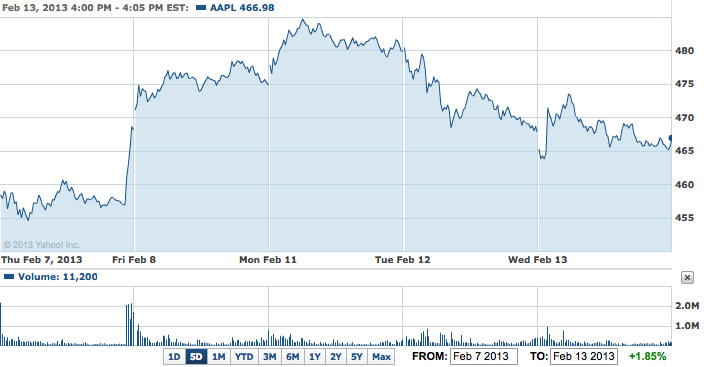 Don't Miss: Apple Finally Owns Japan.