Apple Hits App Milestone, U.S. Bancorp Execs Unload, and 3 More Hot Stocks
Apple (NASDAQ:AAPL): Apple has officially reached the 50 billion app milestone, which it passed on Wednesday, just over a year after the company announced its 25 billion landmark — a strong testament to the exponential rise of the mobile app market. In an unrelated note, Susquehanna has initiated coverage of Apple, with a Hold rating and a $480 price target, on the basis that a larger-screened iPhone is key to the company's continued mobile leadership.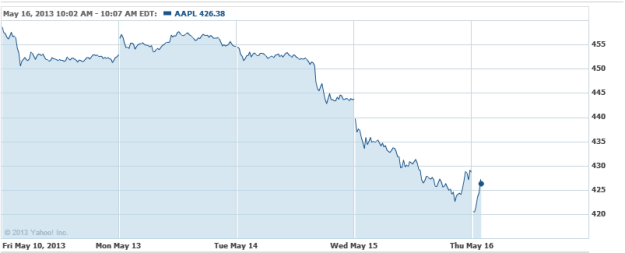 U.S. Bancorp (NYSE:USB): Executives at U.S. Bancorp took the chance when stocks were high to unload their shares, to the tune of $2.5 million in the week beginning May 7, according to SEC filings. The bank said that executives only have a small window in which they can sell shares, and it should be noted that while they would only have one reason to buy stock, there are numerous reasons why they may sell.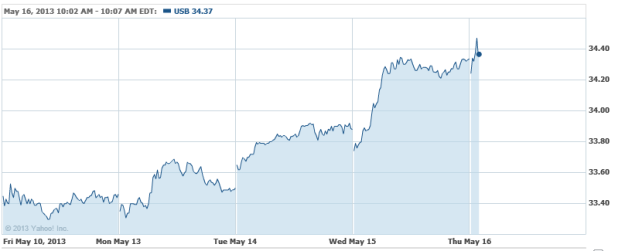 Ziopharm Oncology (NASDAQ:ZIOP): Earnings per share of -$0.15 beat estimates by $0.12, and revenue of $200,000 beat by an impressive $40,000. The results from nonclinical and Phase 1 studies indicate that ad-RTS-IL-12 "is clearly a potent immune stimulator with a demonstrated immune mediated effect in melanoma and other cancers," the company said.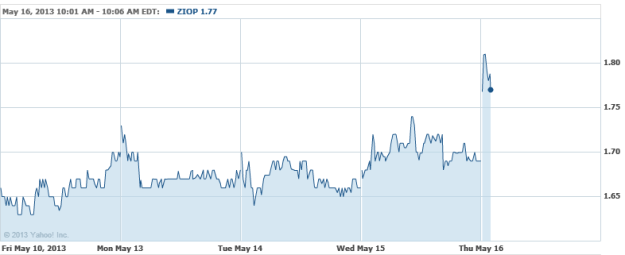 Actavis (NYSE:ACT): Following previous and unsuccessful attempts to merge, Actavis is now courting an offer from Novartis (NYSE:NVS), according to The Wall Street Journal. "Intense price competition and fewer opportunities to cash in on patent expirations," are factors pushing the mad dash for consolidation industry-wide.

Deere & Co. (NYSE:DE): Cautious outlook has taken its toll on shares of Deere, as events are beginning to unfold in an eerily similar manner to what Wells Fargo analyst Andrew Casey predicted back in March, when he downgraded the shares. Deere's plight may also reflect on the equipment industry as a whole, and Barron's has lowered its sights as well.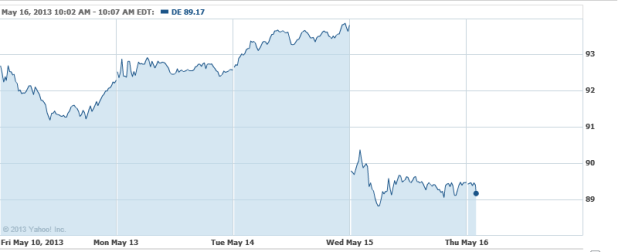 Don't Miss: What's Apple's Big iPhone 5S Change?