Apple Honors Nelson Mandela With Website Tribute Page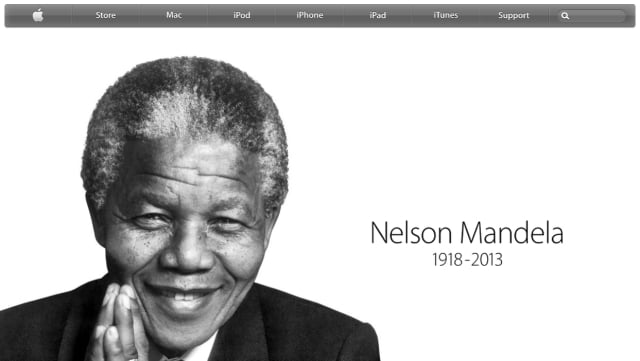 Apple (NASDAQ:AAPL) is honoring Nelson Mandela with a landing page featuring a picture of the late Nobel Peace Prize laureate on its official website. As noted by Apple Insider, the tribute page was posted late Friday, soon after news of the anti-apartheid icon's death was reported on Thursday. The 95-year-old former South African president passed away on Thursday after months of fighting a lung infection, reports the BBC.
Apple CEO Tim Cook also offered his personal condolences via his official Twitter (NYSE:TWTR) account. "Amazing human being. Champion of freedom and human dignity. He set an example for all of the world. RIP Nelson Mandela. We miss you already," tweeted Cook on Thursday.
On Friday, Cook continued his tribute to the late civil rights activist by posting a famous Mandela quote. "'What counts in life is not the mere fact that we have lived. It is what difference we have made to the lives of others…..'Mandela 2002," tweeted the Apple executive.
Mandela is not the first civil rights activist that Apple has honored with a tribute landing page. The California-based company also honored African-American civil rights pioneer Rosa Parks with a similar tribute soon after she passed away in 2005. As noted by Apple Insider, Apple has also previously honored Steve Jobs and board member Jerry York.
Mandela played a key role in South Africa's transition from a white-minority-ruled country to a full-fledged democracy and became the country's first black president in 1994. He was a vocal opponent of South Africa's racist apartheid system and spent 27 years in prison after being convicted of sabotage in 1964.
Despite his long imprisonment, Mandela preached a message of reconciliation after he was freed in 1990. In 1993, Mandela was recognized for his work promoting peace with a Nobel Peace Prize. He shared the award with F.W. de Klerk, who was president of South Africa at the time. After serving as South Africa's president, Mandela spent the rest of his life promoting humanitarian causes and acting as an advisor to various world leaders.
"Our nation has lost its greatest son," said current South African president Jacob Zuma via the BBC. "Although we knew that this day would come, nothing can diminish our sense of a profound and enduring loss."
Here's how Apple traded on Friday.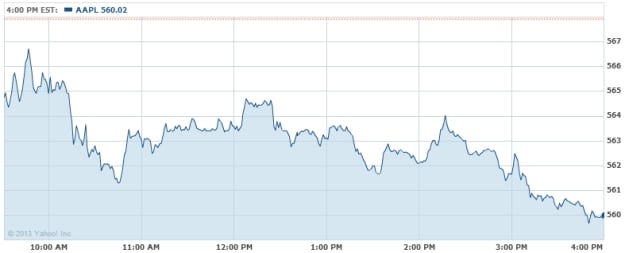 Follow Nathanael on Twitter (@ArnoldEtan_WSCS)
Don't Miss: Apple Retailer Says Mac Pro Will Go on Sale December 16.