Apple Introduces Vanity App Links and 3 Tech Titans on the Move
Apple Inc. (NASDAQ:AAPL): Current Price: $444.10
Apple's new App Store vanity links made a Superbowl commercial appearance, but many may not have noticed. Only keen observers of the trailer for J.J. Abrams's upcoming Star Trek Into Darkness could have seen the AppStore.com/StarTrekApp link that flashed across the screen.

Google Inc. (NASDAQ:GOOG): Current Price: $763.24
Google, Microsoft (NASDAQ:MSFT), and Amazon.com (NASDAQ:AMZN) fought each other for dominance in mobile gadgets and Web searches. Now, they're placing their sights on computing horsepower, according to the Wall Street Journal.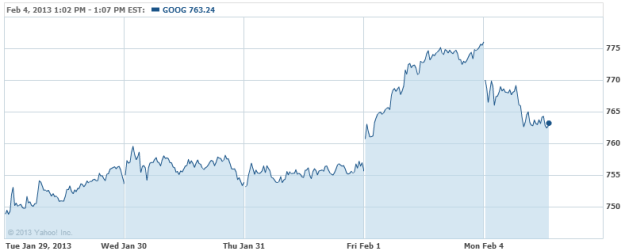 Microsoft Corporation (NASDAQ:MSFT): Current Price: $27.57
The company has begun to encourage home users to begin to rent Microsoft Office software for $100 per year instead of buying a new version on disc every few years.

Intel Corporation (NASDAQ:INTC): Current Price: $21.30
The new Intel-powered Eurora supercomputer has been named the greenest as it topped the Green-500 list for performance per watt.

Don't Miss: Bill Gunderson: Stay Away From Apple!