Apple Investor Proposes Shareholder Return Plan and 3 Tech Titans on the Move
Apple Inc. (NASDAQ:AAPL): Current Price: $473.82
Davide Einhorn of hedge fund Greenlight Capital suggested that Apple should issue a special class of stock, which he called "perpetual preferred," which would carry a high dividend yield in order to return more money to shareholders. However, some investors are more confident in regards to the future and shareholder pressure is growing to put that cash to work, according to the Wall Street Journal.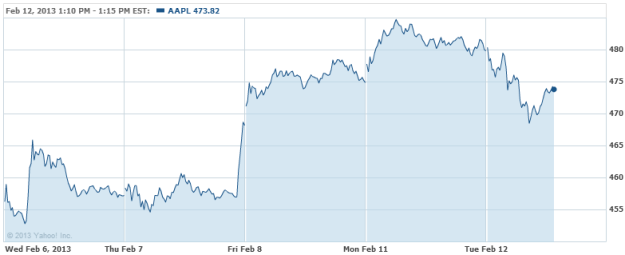 Google Inc. (NASDAQ:GOOG): Current Price: $783.40
Those who own Nexus-branded Android devices should expect a system update in the near future. Those owning Nexus 10, Nexus 7, and the GSM variant of the Galaxy Nexus have already begun to report that Android 4.2.2 is being made available as an over-the-air update. Google has not officially released any details concerning Android 4.2.2, but screenshots from users reveal that the update includes performance enhancements and bug fixes befitting of its x.x.1 version jump.
Are these stocks a buy or sell? Let us help you decide. Check out our Stock Picker Newsletter now.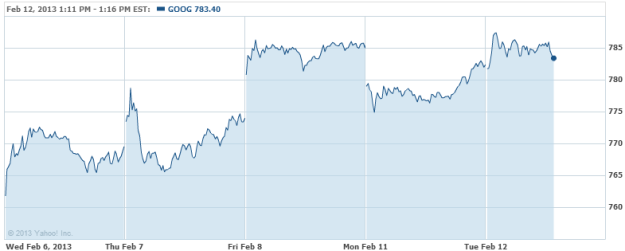 Microsoft Corporation (NASDAQ:MSFT): Current Price: $27.95
Inventory of the 128GB version of Microsoft's Surface Pro tablet have sold out after going on sale Saturday, creating plenty of disappointed shoppers. However, some skeptics argue that Microsoft artificially created the sell-out by under-stocking the $1000 units at its online store, Best Buy, and Staples.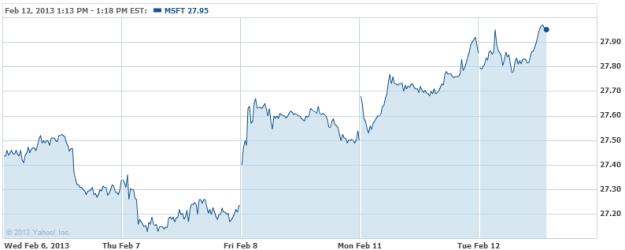 Intel Corporation (NASDAQ:INTC): Current Price: $21.14
Over the past two months, issues have developed  in Israel between Apple and Intel, who are reportedly battling it out to hire engineers. These engineers are those who will soon be laid off from Texas Instruments (NYSE:TI).

Don't Miss: Analyst: Tim Cook Hints At Cheaper iPhone.