Apple iPad Mini 2 Expected and 3 Tech Titans on the Move
Apple Inc. (NASDAQ:AAPL): Current Price: $455.21
Reports from iLounge claim that a second generation iPad Mini is expected in October. It could potentially have a retina screen, and Jeremy Horwitz of iLounge has claimed that it will be IGZO.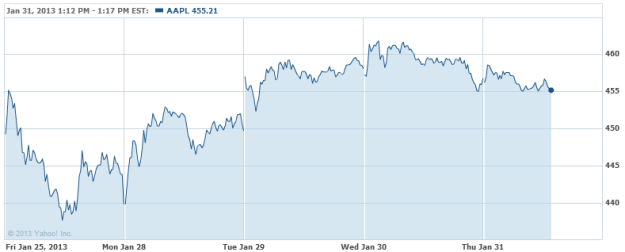 Google Inc. (NASDAQ:GOOG): Current Price: $755.80
Perion Networks' contract with Google is set to expire today and it will be extended until May 31, claims an individual who is familiar with negotiations, according to Bloomberg. The Fly has mentioned that Perion shares are off their earlier highs, but the continue to be up 25c, or 2.3 percent at $11.13 following the report.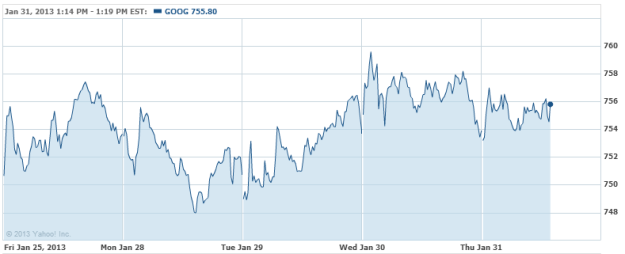 Are these stocks a buy or sell? Let us help you decide. Check out our Stock Picker Newsletter now.
Microsoft Corporation (NASDAQ:MSFT): Current Price: $27.55
The company has launched a new site called modern.IE, featuring free tools, guidance and other resources designed to make it easier for developers to ensure their sites work beautifully across Internet Explorer as well as other modern browsers. Additionally, Microsoft has partnered with BrowserStack to provide devs with three months of free service, which is to be redeemable anytime during this year, to assist in testing their site on any browser on Windows.

Intel Corporation (NASDAQ:INTC): Current Price: $21.11
Intel has joined PC maker Acer Inc in Bangkok to reveal its Liquid C1 smartphone, a $330 device running Google Inc's Android operating system to be launched first in Thailand and then released across Southeast Asia. "We've made a conscious effort to go after these fast-growing markets as our first foray into the business," stated Mike Bell, who is the leader of Intel's mobile division, via telephone interview.

Don't Miss: Is Apple's iPad Losing Weight?