Apple iPhone 5C Not Cheap Enough, Cisco Acquires Whiptail: Market Recap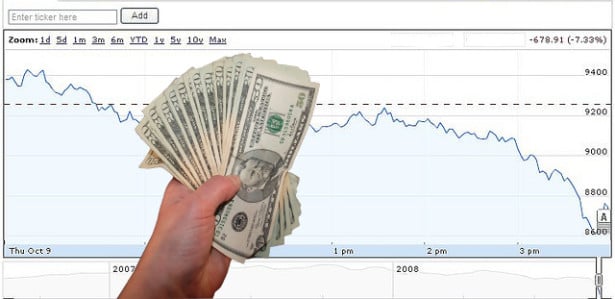 U.S. stocks rose on Wednesday as investor worry over Syria eased for the most part. President Obama plans to continue pursuing a proposal from Russia that Syria surrender its chemical weapons to international authorities. Investors can now turn their gaze back to the Fed's upcoming meeting on September 17 and 18, during which the central bank will decide whether to begin curbing stimulus.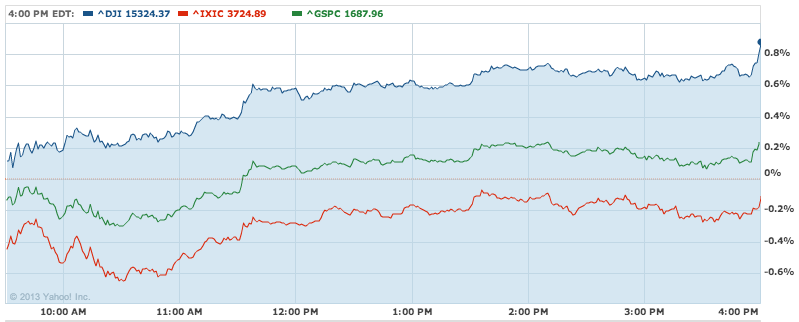 Gold: -0.29% to $1,360.10 per ounce Oil: -0.07% to $107.31 per barrel U.S. 10-Year: -1.32 to 2.92%
How Much Did the Great Recession Cost You? The Great Recession technically lasted from December 2007 to June 2009. During this time, economic conditions around the planet deteriorated rapidly, sharply declining in the third quarter of 2008 in the wake of the collapse of Lehman Brothers, once the fourth-largest investment bank in the world.
Li Keqiang: China Will Press Ahead With Reforms: Li Keqiang, the Chinese premier, said his country will push ahead with reforms, including measures targeting financial systems, Reuters reports. "China can only sustain economic growth by transforming its growth model. Financial reform is one of the important parts of China's economic structural reform," Li said at a conference at the port city of Dalian, China, according to Reuters.
Housing Market Resumes This Damaging Downtrend: After managing to post a modest increase last week, mortgage applications in the United States resumed their downtrend and reached the worst level in years. According to the Mortgage Bankers Association's latest report, for the week ended September 6, loan applications dropped 13.5 percent on a seasonally adjusted basis from one week earlier — the 15th decline in only 18 weeks.

Here's your cheat sheet to today's top stock stories: 
Apple (NASDAQ:AAPL) had good news to share Wednesday morning when the Chinese government finally approved its new iPhones to run on China Mobile Ltd.'s (NYSE:CHL) mobile network, the world's largest wireless operator. Apple and China Mobile have been in negotiations for years over whether Apple would make an iPhone compatible with China Mobile's third-generation network.
Walt Disney Co. (NYSE:DIS) and Dish Network (NASDAQ:DISH) are currently negotiating an agreement over retransmission fees, which is leaving some Dish customers worried about having access to Disney content, including programming from ABC and ESPN. Bloomberg reporter Alex Sherman doesn't believe the fight will get as nasty as the one between Time Warner Cable (NYSE:TWC) and CBS Corp. (NYSE:CBS).
Cisco Systems Inc. (NASDAQ:CSCO) agreed to pay $415 million for the data storage company Whiptail, the company announced Tuesday. This acquisition is Cisco's first venture into the data storage market, according to a report from Reuters.
Citigroup's (NYSE:C) bailout has finally run its course nearly five years after the federal government agreed to rescue the troubled bank. The United States government is selling the last of the stake it received in return for the bailout funds in November of 2008.
Wal-Mart Stores's (NYSE:WMT) Wal-Mart de Mexico unit announced in June it was looking to sell its Vips restaurant chain, The Wall Street Journal reported Wednesday. The retailer has finally secured a deal with Mexican restaurant operator Alsea for 8.20 billion Mexican pesos, or $626 million. Wal-Mart de Mexico has been under close speculation ever since last year when reports of its bribery charges took shape.
Tesla Motors (NASDAQ:TSLA) first introduced its unconventional Model S finance plan back in April, and critics questioned the strategy's potential and charged the automaker with overstating customer savings. However, now it looks like electric car genius Elon Musk is once again ready to have the last laugh.
Follow Jacqueline on Twitter @Jacqui_WSCS
Don't Miss: Could Pricey iPhone 5C Make Apple Fail in Asia?