Apple iPhone Reservations Hit China Unicom and 3 More Hot Stocks
Apple Inc. (NASDAQ:AAPL): Though Apple has been catching criticism for its new phones — namely the "affordable" iPhone alternative – China Unicom (NYSE:CHU) said its iPhone 5S and 5C reservations have nonetheless hit in excess of 100,000 since the company began taking orders last week. The Chinese telco took at least 200,000 iPhone 5 reservations in the phone's first two days of availability last year.

Amazon.com Inc. (NASDAQ:AMZN): Amazon is reportedly held in the highest regard by its fellow retail industry executive peers — more so than any other online retailer — who lauded the Web retail king for continually inventing and innovating despite its large size. "Insiders closest to the company attribute success to CEO Jeff Bezos' fanatic attention to detail and his refusal to waste time on anything that isn't directly about the customer," Stores says.

Petroleo Brasileiro S.A. (NYSE:PBR): Shares are trading up as a result of the news that Brazil will authorize PetroBras to raise gasoline prices by October 21, according to local reports. The increase — expected to fall around 8 percent — with help the troubled oil company recoup some of the losses it has been experiencing in its refining unit; the underperformance has spurred concerns that the company wouldn't be able to carry out its plans to invest $237 billion through 2017.

Medgenics (NYSEMKT:MDGN): News of a new leadership team is helping lift shares of Medgenics past 4 percent. Michael Cola and John Leaman, both veterans of Shire, were appointed as CEO and chief financial officer, respectively. Former CEO Andrew Pearlman is retiring but will still serve on the board and provide advisory services.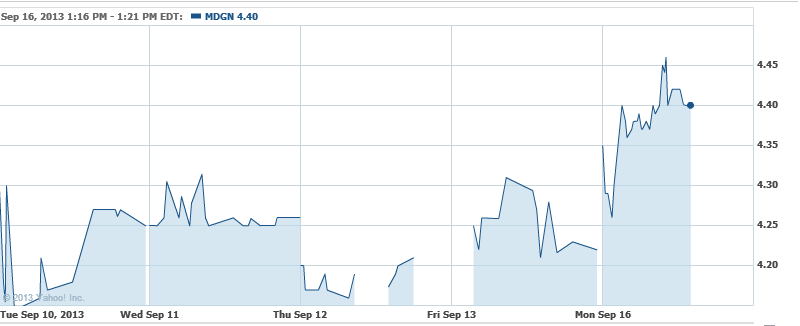 Don't Miss: Apple's High-End iPhone Meets High Fashion.