Apple Is Officially Playing Show and Tell Oct 22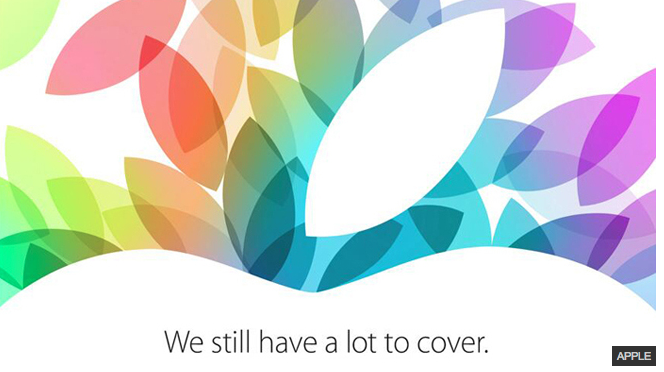 It's official. Apple (NASDAQ:AAPL) is hosting another show-and-tell next week. According to Engadget, the tech giant distributed invitations for its Oct 22 launch event Tuesday, confirming rumors of the special gathering and giving invitees just enough time to clear their schedules for yet another fall Apple unveiling.
Like the invitations for Apple's iPhone launch back in September, this month's invites are also distinctly colorful, reading, "We still have a lot to cover." That's good to hear, considering many have been waiting patiently for Apple to unveil its latest updates to the company's iPad line, and the Cupertino, California-based company could now be poised to award that patience come Tuesday.
Apple has remained mum about the possibility, but analysts forecast that the tech giant will reveal a fifth generation iPad at the gathering, along with a Retina iPad mini, new Retina Macbook Pros, and possibly a ship date for the already-announced new Mac Pro.
According to Tech Crunch, the launch will kick off at the Yerba Buena Center for the Arts in San Francisco at 10 am PDT, and will therefore come right in time for the holiday shopping season, giving tech junkies just one (or two) more things to add to their Christmas wish lists.
Rumors surrounding the new iPad launch have swirled for months, but it wasn't until late week that a date was floated, and Tuesday marked the first day that Oct 22 was confirmed. Now, consumers, investors, and analysts are finally ready to learn what Apple is poised to offer alongside its popular iPhone 5S and 5C this holiday season, although they think they already have a clue.
If the rumors do ring true and Apple launches two new tablet devices, the devices will compete with the likes of Microsoft's (NASDAQ:MSFT) newest offering, the Surface 2, for the attention of consumers in the market for a tablet this season. However, if Apple's iPad launch is anywhere close to as successful as its iPhone one was, though, competitors should have reason to worry, and in all likelihood, they probably already are.
Don't Miss: New App Shows Apple's Gold iPhone 5S Is Still in High Demand.