Apple is Still Winning
The month of January has been forgettable for Apple's (NASDAQ:AAPL) stock, which fell 14.41 percent over the period, but the company's tablets seem to have fared much better. The iPad accounted for more than 80 percent of active users in the market in the month, even though Amazon's (NASDAQ:AMZN) Kindle Fire and other Google (NASDAQ:GOOG) Android tablets saw continued growth.
According to latest data from ad network Chitika, Apple's iPads accounted for 81 percent of tablet web traffic in North America to the Kindle Fire's 7.78 percent and the Samsung (SSNLF.PK) Galaxy line's 3.9 percent. However, while Apple's share fell from 87 percent in December, Amazon's share grew from 4.25 percent for December and more than doubled from 3.57 percent in November. The share of the Galaxy line of tablets was up from 2.65 percent in December.
Google's own Nexus tablet accounted for a 1.7 percent share, while Barnes & Noble's (NYSE:BKS) Nook made up 1.1 percent. (Chart courtesy of Chitika)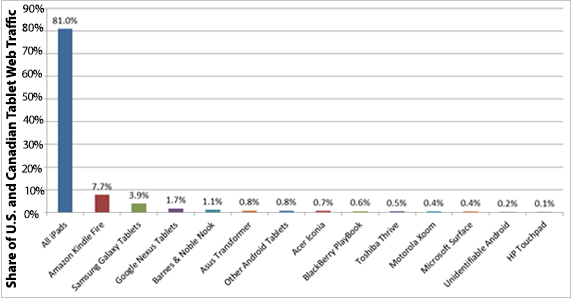 According to Chitika, the Amazon line of tablets saw the biggest growth among the Android market following the holiday season. "The share of North American tablet traffic coming from users of Kindle Fire tablets grew from 4.88 impressions per 100 iPad impressions (as reported in December) to 9.48 impressions," the report said.
Chitika analyzed web traffic from the billions of advertisements it serves globally per month.
Don't Miss: Will Apple Have to Pull the iPhone From This Market?