Apple iWatch: Will It Be a Big Flop?
It sounds more and more like an Apple (NASDAQ:AAPL) iWatch could be coming out within the year, but the question remains whether it will turn around the company's stock, or just be a flop.
Speculation surrounding the rumored device has been making its way through the market for a few months now, and many think an iWatch device could be a winner. When considering the traditional watch market, which brings in $56 billion annually, some estimate that Apple could snag $3.4 billion to $5.7 billion annually for itself with an iWatch device.
To pull in those sales figures, Apple would have to sell the devices to about 5 to 8 percent of its base iPhone market, which would represent between 9 and 25 million units. But there's worry that Apple also may not be able to sell an iWatch as successfully as some would expect.
Though Apple has a strong and loyal customer base, an iWatch might just not be different enough to drive sales. Some critics have even likened the concept to the iPod Nano, which is small enough to fit on a wristband.  Still others think an iWatch wouldn't have much of an edge over iPod, because many potential users already bring their iPods with them while exercising — or would otherwise be carrying a smartphone –  leaving them with little to no need for a smartwatch…
The possible scenarios for the device's success are endless, and Topeka Capital Market's Brian White said, "we believe the much-hyped Apple iWatch is showing early signs of movement in the supply chain and will be launched this year with interesting new technology features that have not yet been touched on."
If the device does in fact come out this year, it could boost gains on the stock chart in what has otherwise been a dull year, but it is also possible that the iWatch may lack the innovation White suggested. A recent report outlined various features that an iWatch could wield, but many were not game-changers. Only a possibly curved screen presented itself as a technological advancement. When Apple officially reveals the device, it may be easier to get an idea of how it will perform for the company.
Here's how Apple (NASDAQ:AAPL) traded Wednesday: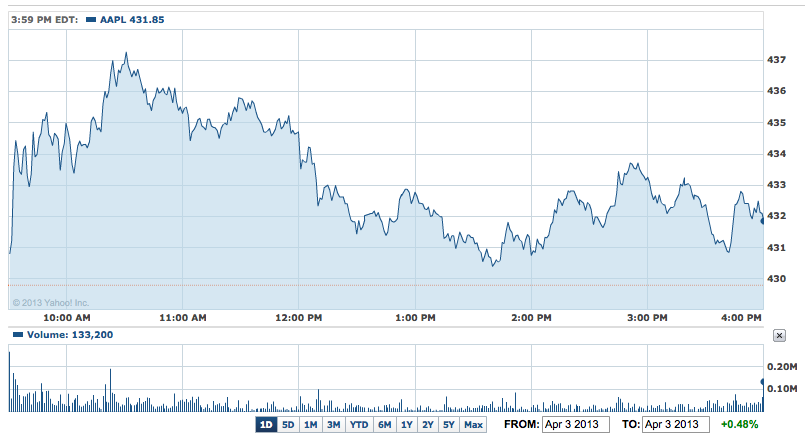 Don't Miss: Will the iPhone 5S Hit This Summer?