Apple Just Took This Major Step Towards iRadio
Is Apple (NASDAQ:AAPL) on the cusp of finalizing a music licensing deal for its long anticipated internet music streaming service? According to sources via The Verge, Apple may be about to sign a deal with the largest record company, Universal Music Group. Warner Music is also near to closing a music licensing deal with Apple reports The Verge.
However, talks with Sony Music Entertainment and Sony / ATV are not as far along according to The Verge's sources. Sony Music Entertainment is a music label run by Sony (NYSE:SNE) and Sony / ATV is a music publishing company run by both Sony and the estate of Michael Jackson.
Sources from The Verge report that Apple will be paying a comparable rate to what Pandora (NYSE:P) currently pays. According to the New York Post, Pandora currently pays a fee of 12 cents per 100 songs. The typical industry standard is 21 cents per 100 songs. However, Apple's music streaming service will have "more on-demand features," according to The Verge.
Although Apple hasn't officially announced a name for the new music streaming service, many in the media have already dubbed it "iRadio"…
Apple already has an established base of music listeners from iTunes who could easily segue into new customers for an Apple music streaming service. Apple announced in February that 25 billion songs had been purchased through iTunes reports The Verge. Apple also has the added attraction of a large, integrated ecosystem of desktop and mobile devices.
Although there is the potential for a significant amount of revenue to be generated from an Apple music streaming service, there are also many unknown factors, such as how many people will actually choose to purchase songs that they hear through the music streaming service.
Apple shares on Thursday closed down $2.18, or 0.50 percent, at $434.33.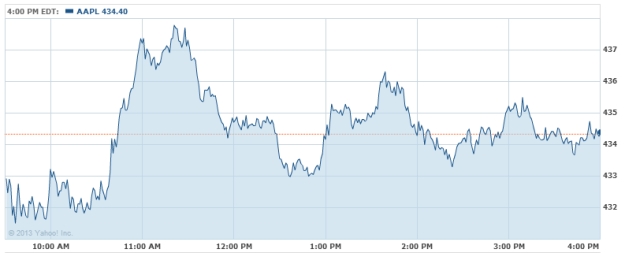 Don't Miss: Can Apple Get Away With Dropping Google for Yahoo?