Apple Keeps the Mobile Enterprise Crown
It's a well-known fact that Google's (NASDAQ:GOOG) Android platform is found on the majority of mobile devices today. However, despite Android's significant lead in the overall mobile operating system market, the platform's popularity has failed to cross over into the world of enterprise. When it comes to business, Apple's (NASDAQ:AAPL) iOS remains the clear leader, according to the latest data compiled by Good Technology.
Apple's iOS platform accounted for 75 percent of mobile device activations by enterprise users in the first quarter of 2013 according to Good Technology's latest Mobility Index report. Approximately 25 percent of enterprise device activations were from Android-powered devices. Less than 1 percent came from various other platforms.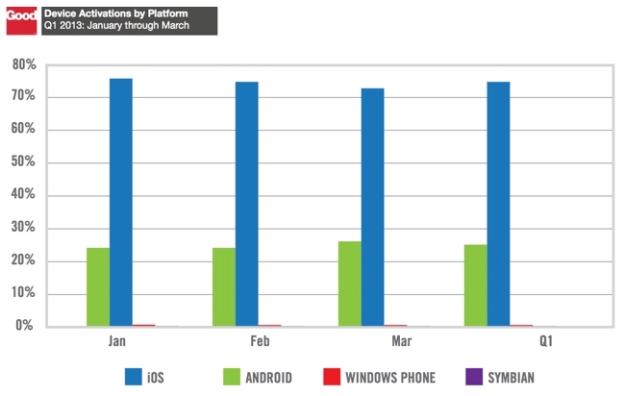 On the other hand, Android has made some gains over the same quarter from last year. Apple's iOS activations declined 5 percentage points from the same period last year, while Android gained 5 percent. Most of Android's gains can be directly attributed to its growth in the tablet segment. Android tablet activations nearly doubled over the same quarter last year, while Apple's iPad activations declined by 5 percent.
Android's growth in the tablet segment can be linked to the overall growing popularity of tablets for enterprise use. Tablets now account for 27 percent of all enterprise device activations. However, smartphones remain the most popular device choice for enterprise, which is a segment that Apple clearly dominates.
When examining the data based on device type, Apple's iPhone accounted for approximately 51 percent of all activations. The various models of iPad accounted for slightly less than 25 percent and Android-based smartphones were in third-place with a little over 20 percent of total activations.
When the data is further separated into each model of device; Apple took the top-five spots with the iPhone 5, iPhone 4S, the "latest generation of iPads," the iPad 2, and the iPhone 3GS. The closest Android-powered device was the Samsung (SSNLF.PK) Galaxy S3, which took sixth place with 5 percent of total device activations.
Via ZDNet, Good Technology CEO and President Christy Wyatt states that "despite what device they may be using, users want a seamless, integrated experience that allows them to be as productive on the go as they are on their desktop or laptop." It turns out that the majority of consumers believe Apple's products are the devices that are best suited to deliver this experience.
Here's how Apple has been trading so far this week.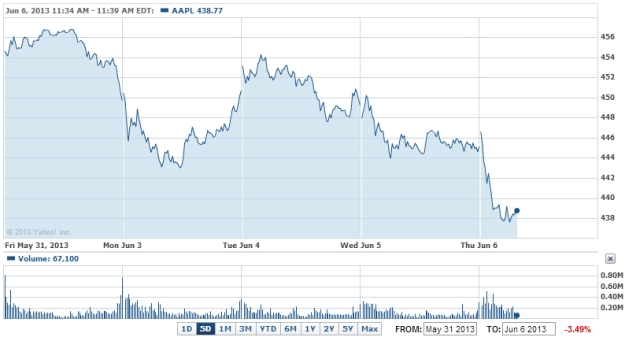 Follow Nathanael on Twitter (@ArnoldEtan_WSCS)
Don't Miss: Amazon: Apple-Backed Publishers Pushed Us Around.