Apple Kicks Off Its iPhone Recycling Program and 2 Other Hot Stocks to Watch
Apple Inc. (NASDAQ:AAPL): Current price $488.11
On Friday, Apple initiated its long-awaited iPhone trade-in program in its American retail stores. The tech major said that its so-called "reuse and recycling" program highlights the value of iPhones, even if they are used.
Inside sources report that Apple's program, which was previously outlined in the 9to5Mac blog, lets customers trade in a functioning smartphone and receive in return a credit to use towards the purchase of a new iPhone. A company spokeswoman observed that, "In addition to helping support the environment, customers will be able to receive a credit for their returned phone that they can use toward the purchase of a new iPhone."

Facebook Inc. (NASDAQ:FB): Current price $41.52
Facebook appears on the IBD Leaderboard list of top-rated stocks near a buy point, and presently have an excess of 1 billion registered users. However, Forbes commented in a Thursday article that 51 percent of Facebook's 2012 revenue originated in the United States, which implies that a hefty world market still remains untapped. Analysts believe that earnings should to climb 50 percent in the third quarter to 18 cents.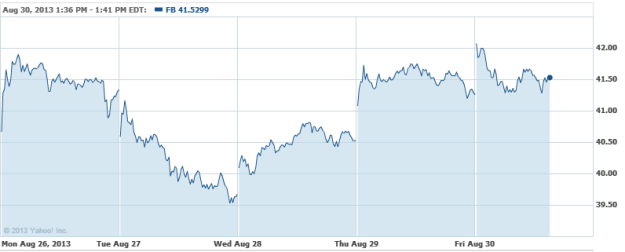 ReneSola Ltd. (NYSE:SOL): Current price $4.82
Shares of the Chinese solar energy firm are up over 8 percent Friday in heavy trading, after ReneSola reported stronger than anticipated results. Not only was the second-quarter loss was lower than had been expected, but its revenue beat expectations. Beyond that, the company gave a third quarter revenue guidance that was considerably above consensus.
ReneSola Chief Executive Xianshou Li commented in a statement that, "Our focus on improving our selling prices and enhancing the market profile of our products led to increased shipments and a positive gross margin of over 7 percent. Despite what remains a challenging macro environment and a fiercely competitive solar industry, we are optimistic our investments will set us up for long-term growth and continued geographic expansion."