Apple Launches $17 Billion In Corporate Bonds and 2 More Heavily Traded Stocks To Follow
Apple (NASDAQ:AAPL): Current price $443.22
For the first time in over 15 years, Apple has launched a corporate bond deal Tuesday worth $17 billion, said the managing director and head of Treasury trading at CIBC World Markets Corp. Tom Tucci. The bond issuance is comprised of six parts, as Apple employs its debt offering to help finance a $100-billion return to shareholders. Whilst reporting earnings last week, the pledged that it would return funds to shareholders by increasing its quarterly dividends and repurchases.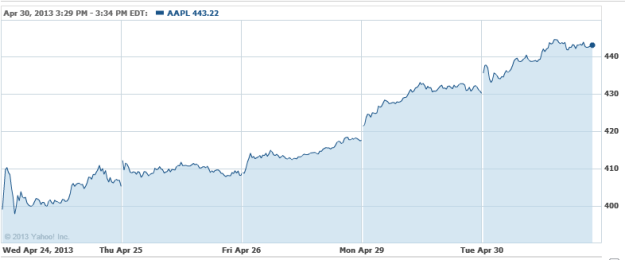 Bank of America Corporation (NYSE:BAC): Current price $12.28
On Tuesday, BofA's board declared a regular quarterly cash dividend on the firm's common stock of one cent per share, payable on June 28 to shareholders of record as of June 7. Additionally, the board declared a regular quarterly cash dividend of $1.75 per share on the 7-percent Cumulative Redeemable Preferred Stock, Series B. That dividend is payable on July 25 to shareholders of record as of July 11.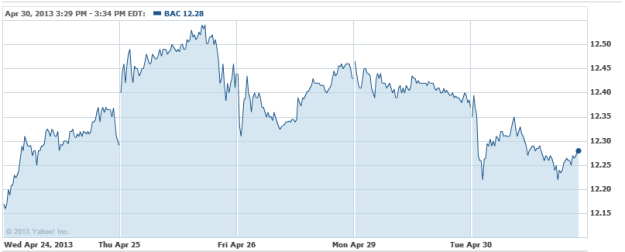 Ford Motor Company (NYSE:F): Current price $13.71
The iconic automaker has announced its move into Myanmar (formerly Burma) on Tuesday, as it intends to inaugurate that country's first sales and service showroom for new vehicles by August. The vehicle market in the nation has been deterred by decades of international sanctions and strict import controls put in place by the military regime that ruled for almost 50 years, giving import licenses to a few elite tycoons. Nowadays, most vehicles seen are used Japanese cars, having an estimated 80 percent of vehicles more than 10 years old. David Westerman, a regional manager for Ford Asia Pacific, observed that "it's got a lot of positives in a country of roughly 60 million people with some of the lowest car ownership per capita in the world. We see tremendous opportunity."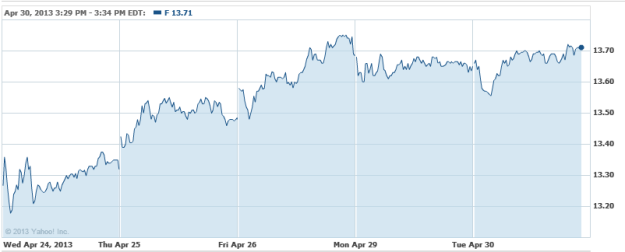 Don't Miss: Analyst: Apple Love Is Like Muscle Memory.